In Community:
October 2017 Newsletter
---
The Power of a Quiet, Consistent Testimony
By Pastor Craig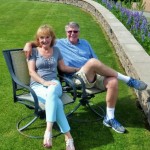 We live in a world where results are expected immediately and we get frustrated when things take too much time.  Think of our own reactions when were stuck in traffic or dealing with slow internet.  We want things to move and see results quickly.  But good things usually take time and food prepared in a slow-cook crock pot tastes much better than something out of a microwave.
This same principle applies to ministries and I think we are beginning to see that in our involvement with Beacon Hill International School. For several years now, we have attempted to be the hands and feet of Jesus at BHIS which is one of the schools in the Seattle School District with the least access to extra-district funding.  We have donated resources for school uniforms, assisted teachers and staff in cleanup at the end of the school year, helped in the back-to-school workdays moving supplies, painting classroom, etc. and hosted an annual welcome barbeque so parents can meet the teachers and other parents at the school.
We have attempted to do this quietly without drawing attention to ourselves or the work we've been doing.  After all, we've been doing this for the Lord, who sees what is done in secret.  But word appears to be getting out.  Last year, FBC was publicly recognized by the chairman of the PTA at the barbeque and the parents were told of the help "the church" has been to the school.  This year, attendance at the barbeque reached an all-time high and people stayed around until late in the evening.  FBC has become a catalyst for community at the school.
We recently received a thank you card from the school for our efforts.  Here are just a few of the comments included in the card.
"Your generosity touches many hearts and lets us know we are blessed from above."
"We appreciate you so much! Thanks for your generosity!"
"Thank you for caring for our students and families!"
Our desire has been for the Lord to look good in the eyes of those associated with Beacon Hill International School.  As we have patiently and quietly attempted to serve Him there it is becoming evident that we continue to B-His at BHIS.
Beacon Hill International School Service Day
by Brian Watanabe
We had another great workday at Beacon Hill International School (BHIS). It's always enjoyable to serve God together as a church and to work alongside the teachers. Taking a step back after the workday brought the realization of just how much time and effort it would have taken the teachers to do the work themselves, and the value it will bring to the new school year for the kids. Furniture was moved, some to create different walls within the open classroom space, other furniture following a teacher to a new classroom location. The usual surface cleaning was made more difficult and necessary after someone vandalized part of the building with a fire extinguisher during the summer. This year our group did a bunch of exterior painting to give the playground area a fresh look. This certainly doesn't cover all the work done, and some of the group continued working after the scheduled time, meaning there are plenty of things for you to join in next year!
Beacon Hill International School BBQ
by Pastor Mike Kurtz
It's 4:15pm.  The BBQ's are set up, the tables are arranged, the PA system is ready to go. As we take residence in the middle of the Beacon Hill International Elementary School playground, kids are running around as part of the after-school program. In 15 minutes, others will arrive to prepare the food. In 45 minutes, families will begin trickling in to attend the school's curriculum night – a night where the teachers introduce themselves and their classes to the parents.
This was the scene when I decided that it was time to play some music to set the mood for the Welcome Back BBQ.  What would I play? What should I play? With all the kids running around, I decide to play the soundtrack to the movie "Sing" – popular with the kids, and surely it would be safe to play. So I pull up the soundtrack and hit play, not knowing the first song was a Stevie Wonder song entitled Faith. As I'm listening to the song blast from the PA through the school playground, the chorus comes in:
I got faith in you baby, I got faith in you now
And you've been such a, such a good friend of me
Know that I love you somehow
I met you, hallelujah, I got faith
If you know the song, then you know it has a gospel feel to it, and the words "faith" and "hallelujah" really stand out – at least to me who is now wondering if the school is going to interpret my song choice as a religious lure to advance a different agenda. Despite that fear, I decide to just let it play anyway – I mean it's Stevie Wonder; who's going to complain about Stevie Wonder? My fears subside when I turn to the stage area. There gathered together like a choir are a bunch of kids from the playground joining with the song around the microphone. Other kids are up on the benches dancing. I think to myself, "This is going to be a good evening. Hallelujah, I got faith."
It was a great evening, indeed! We served roughly 500 hotdogs and veggie burgers, chips, many gallons of lemonade, and hundreds of bowls of ice cream. People stayed even after we packed up and went home. Now that's community! Why do we do it? We do it because it's what Jesus did for the people around him. We do it because it displays the love of Jesus to this little part of our world – and God knows the world needs a more accurate picture of Jesus. We do it because it's the least we can do for a God who did so much for us.
BHIS is thankful to the many who took the time to fight traffic and serve the community in such a powerful way. For more on our impact on the school, please read Pastor Craig's article.
Thank you, FBC family, for doing so much to make Beacon Hill International Elementary School and the community as a whole a better place for students and families. Hallelujah!
-Pastor Mike
JEMS Nichigo Camp Testimonies
by JxJ
The JxJ (Japanese x Jesus) ministry joined JEMS Warm Beach camp as Nichigo camp from August 18-20.  It was he tenth time for JxJ to participate JEMS camp and we appreciate this partnership.   We had Setsu and Mao Shimizu from Japanese Christian Fellowship Network (JCFN) as our speakers.  Here are the testimonies from some of the Nichigo camp attendees.
AYAKO KASAI
First of all, I would like to thank God for giving me the opportunity to be a part of JEMS Warm Beach Camp 2017, and for giving us the chance to pray together and strengthen our relationship with Him.
The theme this year at JEMS Warm Beach camp was "VINE – abide with me." To abide with God means to live with God. It was a good reminder to think about what exactly it means to be loved by God. It was also a good opportunity to calm my heart and think deeply about my faith. I tend to solve things on my own when it comes to daily life, school, and relationships with other people. I start feeling anxious and get depressed. As I keep doing so, my heart starts getting tired and I run out of energy. Even after accepting Christ into my heart and confessing that I would trust God for everything, my actual behaviors don't show that. Through this year's JEMS camp, God spoke to me that without abiding with him, I can't bear any fruit. The reason I keep all worries to myself and get depressed is because I forget about God's unconditional love and how much I am loved. Instead, I was relying on the weakness of myself. No wonder I can't do anything while relying on the weakness of myself. I can do all things through God who has created, loved, and led me. During one of the sessions, our speaker said to abide with God means "staying in God's house."  God's house has everything you need and He always welcomes us and says "Let's have fun together!" But there are many temptations around us and we often get distracted and visit somebody else's house. Through this camp, I was strongly reminded that I want to stay in God's house and want to know the person who has loved me, led me, and given me the things I truly needed, while at the same time I feel much closer to God.
Also at the camp, I got to witness how God spoke and touched the hearts of other beloved sisters and brothers in Christ, including those who don't know Christ yet. By witnessing His work in other people, I realized again that God's love is great and I felt encouraged.
Upon the registration for this camp, I received a scholarship through JxJ. I'm very thankful for those who have supported us generously through donations and prayers. I would like to conclude this JEMS camp testimony by anticipating to bear more fruits by praying and encouraging each other and continuing to abide within God's love.
TOSHITAKE TANAKA
It was my second time attending JEMS camp, but my first time as a Christian. So, I was looking forward to sharing with non-Christians about Jesus and understand where I stand with Jesus. Unfortunately, my small group didn't have any non-Christians, but I was able to understand my faith better.
During JEMS camp, I learned that abiding in Jesus is important, how I live my life with God, and the fact that God always loves me for who I am. Also, I felt that I should abide in Jesus to know my purpose of life and rely more on God to be faithful.
YUI MIZUNO
It was not only my first time attending JEMS camp but also my first time spending plenty of time thinking about my relationship with God. I don't usually have chances to talk about God with non-Christian people, but I was able to share with them about my joy that I have after believing in Him. He gave me such an amazing opportunity to grow my faith through JEMS camp. I also would like to thank everyone who supported this camp.
Bill's Book Blurbs
by Bill Hamasaki
MVP Book
Knowing God by J.I. Packer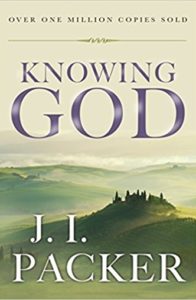 In an article several years ago, Christian leaders were asked which books meant the most to them in their spiritual growth and understanding.  One of the most often mentioned was this book by J.I. (James Innell) Packer.  Some said they read it once a year.  He has written many excellent books but is best known for this classic work first published in 1973.  Over one million copies have been sold.
In this book, the author reveals "the wonder, the glory and the joy of knowing God."  Divided into three sections, the first discusses the why and how we know God, the second, the attributes of God, and third, the benefits enjoyed by those who know Him intimately.   "Knowing God brings together two important facets of the Christian faith – knowing about God and also knowing God through the context of a close relationship with the person of Christ."
He writes, "But while the subject humbles the mind, it also expands it.  He who often thinks of God, will have a larger mind than the man who simply plods around this narrow globe… The most excellent study for expanding the soul, is the science of Christ, and Him crucified, and the knowledge of the Godhead in the glorious Trinity.  Nothing will so enlarge the intellect, nothing so magnify the whole soul of man, as a devout, earnest, continued investigation of the great subject of the Deity."
He also lists four propositions of those who know God:
Those who know God have great energy for God.
Those who know God have great thoughts of God.
Those who know God show great boldness for God.
Those who know God have great contentment in God.
Addressing both the heart and mind towards a greater understanding of God, this must read book will help deepen your relationship and your worship of Him.   Hope to see you in the library!