In Community:
May 2017 Newsletter
---
Maintaining Control
By Pastor Craig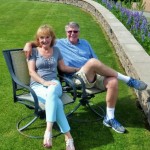 The calendar says that Spring is here but we probably wouldn't know it by looking outside.  Even as I write this, over nine inches of snow is predicted to fall in the pass over the next two days.  The record-setting winter has caused many delays.  The Tulip Festival was late this year.  The cherry blossoms in Seattle were late this year.  Planting gardens will be late this year.  The good news, though, is the real work of gardening won't start as early either.  That real work is keeping the things out of the garden that shouldn't be there.  Bugs, slugs, weeds, birds and this year especially, mold.  Controlling the bad things is vital for a bountiful crop of the good things.
The same is true for the fruit of the Spirit.  After listing the great qualities beginning with love, the final item on the list in Galatians 5 is pest-control, weed-control, in other words, self-control.  It seems like the biggest hindrance to the development of the fruit of the Spirit is self.  Think of all the compound words that include self; self-centered, self-pity, self-assured…  Webster's Dictionary lists 240 different "self" compounds and most are at odds with the fruit of the Spirit.
That's why self-control is such an important fruit.  When we can control self, the remaining fruit are freed up for unimpeded growth.  But controlling self is not done effectively in our own strength.  It results in pride when we're successful and giving up when we're not.  But when the fruit of "self-control" grows, we don't even realize that "self" is being controlled.  The things associated with "self" no longer seem attractive and the life of God is our hearts' desire.
Spring has to be just around the corner and when it comes everything is going to grow.  May the fruit of God's Spirit grow as rapidly and abundantly and continue to grow in every season of our lives.
---
Ladies' Easter Tea
By Maki Yeager
We had our third Ladies' Easter Tea (our fifth Ladies' Tea) on March 29th in the fellowship hall.  There were 57 people who attended this event (forty people sitting at the tea tables, ten childcare helpers and seven kitchen helpers/servers).
Yuri Mori, an evangelistic singer, from Japan was our special guest who shared her message and sang various songs.  She first shared with us some details about her mission trip in Cambodia.  She showed how Cambodian people live and how little education they receive.  She mentioned that she had talked to one of the Cambodian moms who had a lot of children.  She asked the mom how many children she had, but the mom could not answer.  Yuri learned that the mom did not know how to count, so she didn't know how many children she had.
Yuri also talked about her younger brother (a college student) who died due to the Great Hanshin-Awaji Earthquake in 1995.  Yuri's mother really loved her son, so her mom was devastated by his death.  She used to smile all the time, but she stopped smiling.  She started smiling again little by little because she came upon these Bible verses: John 11:25-26, "Jesus said to her, "I am the resurrection and the life.  The one who believes in me will live, even though they die; and whoever lives by believing in me will never die.  Do you believe this?" By reading the verses, her mom was sure that her son is alive in heaven.  These verses saved her!
When her father was about to die, he told Yuri that his desire to see his son was greater than his fear of death and that he was happy because he could finally see his son (Yuri's younger brother).
During her message and songs, there were many ladies crying.  Yuri walked around singing and putting her hand on the ladies' shoulders.  Twenty-seven of forty people who were sitting at the tea tables were non-believers.  We had great feedback from them.
There were three core people (Akiko Bauson, Hiromi Kuge and Maki Yeager) who planned and organized this event, but we could not thank enough the childcare helpers (Lauren Oda, Kyle Chen, Tomoko Nagata, Yuka Tomioka, Patty Mayeda, Daniel Mayeda, Dawn Hamasaki, Linda Takano, Vickie Jo and Yae Lee) , kitchen helpers/servers (Yumi Griffin, Shigeko Williamson, Yasuko Aoyagi, Julianne Eng, Junko Fisher, Keiko Whalen and Naomi Yonemura) and Pastor Mike Kurtz and Mihoko Cheung for helping with the audio system.
Special thanks to Yumi Griffin for letting us use her wonderful teacups, tea spoons, cream & sugar cups, and tea cozies.  She was also a kitchen coordinator who was in charge of homemade food such as sandwiches, quiche, scones and fruit.  We served three different desserts: Gateau Matcha, Almond Pudding, and Shortcake by Taeko Fujii's "Gugu Fine Dessert."  We also appreciate Junko Fisher who made macaroons with a memo with the same verse, John 11:25 on it for the ladies to take home.
We really hope that this event was able to touch the ladies' hearts through God's power.  We hope that we will be able to continue this Ladies' Tea again.
---
Senior Easter Celebration
By Kevin Chan
When has our FBC kitchen ever smelled like a Chinese restaurant?  Well, on Saturday, April 15th it certainly did!  The Seniors committee thought it would be fun to change things up a bit and came up with the following menu for this luncheon: spring rolls, pork fried rice, chicken chow mein, sweet & sour pork, ginger beef, garlic green beans, fruit platter, strawberry shortcake, punch, tea and more.
Even though Howard Eng and Sue Machida were busy cooking with all four woks this morning, we did have some restaurant help!  All hands were on deck and working throughout the kitchen, the serving room, and the fellowship hall.  Everyone had a role and was joyfully serving!
The fellowship hall was colorfully decorated with guest seating for 100 this day.  Keiko Tanase arranged all the floral centerpieces, while Alane, Maddie and Sydney Louie set them beautifully atop of each table.  As our guests arrived, they were greeted at the door with excitement.  Matthew Machida, Keoki and Kulani Chan prepared the tasty punch and they quickly went around the room, serving it to all our guests.
As our festivities began, Watson Louie came up to do the ice-breaker!  It's another creative JUMBO game that he thought up.  Each table was given a game set of 21 Dixie cups and our guests had to unscramble the letters on the cups yielding the answer of "HAPPY EASTER" and then stack them all upright (starting at the base: 6-5-4-3-2-1) like a pyramid without any of the cups falling down.  It certainly wasn't as easy as it sounds, as even the tables with our engineers were having trouble.  As usual, the winning table got to go first to the buffet line!  So, Koji and Yohko Tada were pretty excited when their table won the honors!  Pastor Mike prayed, asking the Lord to bless our food and our time together.
After lunch, many were ready for a nap!  But, no chance!  Jim Spray had some more corny jokes, as he puts it, before his aerobics routine.  The audience was already laughing before he got started, so this was an easy crowd today!  Jim started off, 'They say there's an advantage to getting old, as it's called "The Golden Years." So, with all the inflation going on these days, where's the gold?'  Jim then told the audience that his wife, Grace, handed him these jokes and they can 'boo' her if they didn't like them.  "Everyone would love to have the perfect body, even us seniors…to have a perfect body isn't hard, it's just plain impossible!"  "Old age doesn't really matter, but it's the ugly that sneaks up on you every time!"  And the audience chuckled.  As Jim is getting older, he thanks God for all his blessings!
Jim followed by introducing everyone to some cross-fit exercises/movements this time: dead lifts, wall balls, rowing, and inverted pushups.  Jim also pointed out that his daughter-in-law (daughter of Howard & Betty Inouye), Janice Spray, has placed as high as 4th in cross-fit world championship competitions.  Wow!!
The Nikkei Horizon Ukulele Bands (with members from four different bands represented here) came out to entertain us!  John Iwai pointed out that everyone in this group has been directly or indirectly taught to play the ukulele by Dr. Jack Akamine.  The group started off by playing/singing 'I Am What I Am' as a tribute to/in memory of Shirley Hall, who recently went home to be with the Lord.  They followed with two more songs: 'Beautiful Kauai' and 'Ahi Wela.'
John and Lisa Tsuji graciously prepared to share their testimony with us.  As they came up, John looked around the room and saw the many faces he has known all his life, as he grew up at FBC.  He felt very blessed to be able to share and thanked everyone for their inspiration and love over the years.  John also apologized to Tom Tamashiro, his former Sunday school teacher, for being a wild kid.  And the audience chuckled.  Throughout the sharing time, the Tsujis showed many photo slides in the background.  While showing a picture of FBC and its congregation from the early 70's, John pointed out a young Alan Fukuda with a full beard!
John was born in Canada, but grew up in the Seattle area.  Lisa grew up in Astoria, Oregon (her parents: Art & Lila Chan).  Coincidentally, they both grew up in a family of five kids (both families had four girls and a boy), and they're both the middle child!  John and Lisa met in Alaska, while working summer jobs in the fish canneries to help pay for their college.  So, for their first date, they simply played cribbage.  Lisa pointed out that those were the days before e-mail, Facebook, and texting.  So, it truly was a long distance relationship for the two moving forward.  Lisa later moved to the Seattle area after college and they were soon engaged.
Their wedding day was on the hottest September 22nd in Seattle's recorded history (at 92 degrees in 1990)!  They showed a picture of their wedding and pointed out a young Pastor Ray Gosden officiating.  Pastor Ray and Sharon Gosden were in our audience, as they were in town visiting.
John and Lisa have three children: Jennifer, Ryan and Meghan.  Lisa pointed out that in 1997; as they were expecting their third child (Meghan), she had a panic attack when she realized that they would be outnumbered by their kids.  This was the beginning of many years that followed with numerous personal challenges for the family that have literally rocked their world, as John puts it.  Lisa's mom battled cancer and passed away soon after Meghan was born.  Because Lisa was so close to her mom, she felt grief for the first time.  Lisa said that she was literally in a "motherless mother" role and felt very lonely.  Meghan's first year was all a blur to her.  She pointed out that God gave her Meghan in the perfect time, which gave her a purpose to go on.
In March of 2003, John's dad was diagnosed with leukemia.  A couple weeks later, Meghan at age 5 was diagnosed with type 1 diabetes.  John's dad passed away in 2004.  Lisa's sister, Linda, battled cancer and passed away on Ryan's 13th birthday.  John's mom was diagnosed with cancer and needed daily radiation treatment.  Lisa's father passed away in 2012.  This was all a real tough time for both John and Lisa, as they struggled with their faith and asking God "Why…?"
Looking back, Lisa recalls her mom telling her that she should have been a nurse.  But Lisa admitted that she wasn't good with math or science.  So, she majored in Family Studies instead.  As part of her final college course work, she had to do a project calculating lots of numbers while taking nutrition classes, which years later gave her exactly the knowledge she needed to care for Meghan and Sheilah Tsuji (her mother-in-law).
John pointed out that Lisa has always been gifted in working with children.  So, over the years, they've taught/led VBS, the high schoolers class, college Bible study, WASABI (middle schoolers).  And nowadays, they lead the College/Young Career Ministry.  Throughout, they've always encouraged their students to get involved.  All the Tsuji kids are now serving alongside their parents.  As Lisa has been a stay-at-home mom for many years and their kids are all grown up and in college now, it's empty nest time for the Tsuji household.  So, God gave all these students to John and Lisa now to love.  Lisa pointed out that God gives us all, all the opportunities we need!
In closing, Lisa quoted Romans 12:12 "Be joyful in hope, patient in affliction, faithful in prayer."  God wants us to be His children and trust in Him!  God is so good!  When we're unsure, God knows!  John admitted that through their struggles, they've even accused God of not caring.  They had to overcome a lot to be faithful to God.  John referred to II Corinthians 12:9 and II Corinthians 4:17.  God's grace is always there and He wants us to trust Him to take care of us into eternity!
In closing our time together, Pastor Craig came up and asked, "How do we go through trials and losses?"  The Tsujis served and continue to serve even through personal pain and agony, citing I John 4:19: "We love because He first loved us."  We serve because He first served us.  The Lord Jesus came down from Heaven and gave Himself for us!  Amen!
---
Easter Sonrise Breakfast| April 16, 2017
A special "thank you" to Annika Velji and her team that worked most of the day Saturday and
from early Sunday morning to prepare such a special breakfast for us!
---
Baptism Testimonies
---
Keigo Aoyagi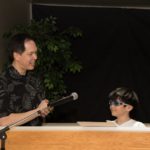 My name Keigo means understanding deeply God's blessing. My parents named me after 1 Timothy 1:14.  "The grace of our Lord was poured out on me abundantly, along with the faith and love that are in Christ Jesus."
I was going to church before I was born because my mom and dad went to church when I was in my mom's tummy.  I go to church almost every Sunday and every night me and my mom read a Bible verse.  I believe that Jesus died for my sins on the cross and rose on the third day. I believe in the fact and Jesus is my Savior.
"For what I received I passed on to you as of first importance: that Christ died for our sins according to the Scriptures, that he was buried, that he was raised on the third day according to the Scriptures."
(1 Corinthians 15: 3-4)
---
Jonathan Kumai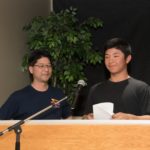 My name is Jonathan Kumai and I became a Christian at vacation bible school here at FBC when I was about six years old. At the time I was very young and did not fully understand what it meant to be a Christian. It was not until 6th grade when I attended a camp with a few of my buddies from school where I recommitted my life to God and decided that I would live a life full of the Holy Spirit. From kindergarten all the way through eighth grade I went to a private Christian school. It was a lot easier in an atmosphere like this to be a good Christian through my actions while there were a lot more kids who had the same goal as I did. This all changed when I moved schools my freshman year of high school. I switched to Mountlake Terrace High School (a public school) which was not even close to what it was like at a small Christian school in Bothell. It took me some time to adjust, but I did and I guess you could say I adjusted a little too much. I learned how to act and how to fit in with all the other non Christians. My attitude and my personality changed and I didn't even realize it. I had become a two faced kid with a good personality and a not so good personality and I knew very well which ones to use at the right time. After a certain point I started to get sick of myself being like this all the time and decided to make a change. I have realized through countless experiences that no one is perfect and I can't change the way other people act, but what I can change is my attitude and the way I carry myself. I have now realized that I can use the situation that I'm in right now to be a light for Him and be a good witness to those around me.
---
Ryan Tsuji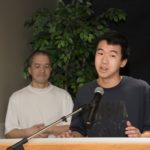 My testimony is probably fairly common to most people, but I've started to realize that that doesn't mean it's any less important to share. I have grown up here at Faith Bible Church all of my life so I have always known a lot of things about God or about Christianity but I didn't really decide to become a Christian until early high school at JEMS. However even then, I feel like I did not really understand what it meant to be a Christian until college because growing up, my views of God were largely associated with Him helping me in times of need and ultimately getting to heaven. Lately though I've been learning that being a Christian is more about loving God for WHO He is and WHAT He HAS done more than what I perceive He can give me to make my life better. It seems kind of obvious now, but my perspective on being a follower of Christ changed drastically when I realized that the ultimate prize at the end of this journey was not simply avoiding Hell but receiving Christ Himself. Suddenly daily quiet times didn't seem like a duty anymore but a privilege. It is crazy to me that at one time in my life being able to communicate with the Creator of the Universe personally was something less than amazing. Obviously I am still growing, I am still learning more and more about God that I didn't know before, and I am still trying to align my focus more on Him in a time and place full of distractions, but now I know where my purpose and satisfaction in life comes from. That is actually the reason why I decided to get baptized because I only looked at baptism as "not a requirement of salvation" so I never thought twice about having to do it. Reading more of the New Testament I learned how important it is as a follower of Christ to publicly declare it in the form of baptism. In Acts 22:15-16 it says "You will be his witness to all people of what you have seen and heard. And now what are you waiting for? Get up, be baptized and wash your sins away, calling on his name".  There was no longer any reason for me to wait, Christ is my reward and that is something I needed to declare.
---
Hikari Bauson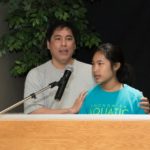 My name is Hikari Bauson. I am twelve years old and I am a 7th grader at Cedar Park Christian School's Bothell campus. Ever since I was a tiny baby, I have been going to church. When I was 6 years old, I accepted Christ.
My dad says that I had been asking questions about salvation, and talking about the book of Revelation. We must have been talking about that in Sunday School. It was on January 25, 2011 when my dad and I were talking about St. Nicholas and how he is dead. Then my dad told me "He's not actually dead if he had Christ as his savior" and when I asked why we didn't talk about Christ being the Savior and asking him into my heart. Then he told me that I never asked about becoming a Christian, I said, "Well, I'm asking now!" so he sent me to get my mom and I prayed the Lord's prayer in Japanese and he explained the gospel to me. What started moving me to think about getting baptized, was near the beginning of 7th grade, when the pastor invited us to fast for a lunch and pray. I went to this praying session and my friend and I were reading the account of the crucifixion, when the words really hit me. After that I started reading the Bible more often. This year, I decided that I would get baptized and show you that I am a Christian.
---
Reeghan Crawford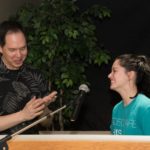 Hi, for those of you who don't know me, my name is Reeghan Crawford. I was born into the church to Norin and Marsha Crawford, who are worship team leaders/singers. I accepted Jesus as my savior at VBS at a very young age
but have always felt that my faith wasn't my own; it was my parent's. Since 6th grade, I've been attending JEMS during the summer and loved the worship sessions and sermons but it never really hit home for me. But this past JEMS year, we were talking about how we are loved by God and I just felt so overwhelmed with his power and love. I decided to recommit my life to Christ there at camp. Since, I have felt more at peace during hard times just knowing that God is in control and has a wonderful plan for my life and I am so excited to see what God has in store for me.
---
Maddie Louie
I grew up in a Christian family and have attended Faith Bible since I moved to Washington, which was when I was 2 years old. I went to Newport Christian Covenant Preschool where I enjoyed listening to all the Bible Stories and sang off key to Christian songs. I was at preschool when I accepted Christ into my heart. In the past years I have gone to lots of Christian camps, ranging from Young Life to JEMS and have heard about God's work in other's lives. Over time I gradually realized God's work in my own life and how He has blessed me in so many ways. In addition, as I have learned more about God while attending Sunday school, I came to understand God's unconditional love for me and I have come to trust Him and seek His ways.
I have decided to get baptized today because I want to commit my life to Him and I want to live my life in a way that is pleasing to Him. By getting baptized, I know that I will not be a perfect person, but can live freely with His forgiveness, eternal salvation and unconditional love.
---
Bill's Book Blurbs
By Bill Hamasaki
New Book for May
The Story of Reality by Gregory Koukl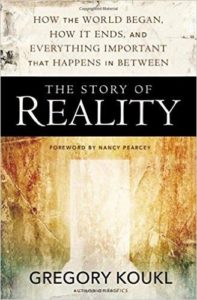 It's been said that all of history is really His story – God's creation of the world, His relationship with fallen mankind, His solution to our sin problem, and His future plans for this world.  It seems that it is somehow okay in some academic circles to revise history in text books to make them more "politically correct."  As Christians, we can completely trust the Bible to give us the big picture of history from God's perspective, from beginning to end.
In this book, the author "unpacks the story of our world through a wide-angle lens, introducing  you to some of the most important questions every person must ask about life, death, the evil in this world, and why we are here.  This is the story of the Bible told through five simple and easy–to-remember words:  GOD, MAN, JESUS, CROSS, and RESURRECTION.  These five words capture the meaning of our humanity and of all human history from beginning to end."
He believes that Christianity cannot be reduced to just a means of attaining salvation but "is first and foremost a picture of reality, a view of the way the world is-a worldview."  Subtitled, "How the World Began, How It Ends, and Everything Important that Happens in Between," this book provides a bigger perspective that is much needed in our thinking and living as believers in this world.  It is a book that will challenge skeptics and atheists as to their worldviews and their answers to life's most important questions.  It also shows how other religions and worldviews fall far short of giving us a trustworthy and accurate picture of reality.
Highly recommended by leading Christian leaders and scholars, this fascinating book is a great study that will deepen your thinking about Christianity and God's sovereign role in all of history.   The author is founder and president of Stand to Reason (str.org) and serves as adjunct professor of Christian apologetics as Biola University.
---
Sacred Road – Yakama Nation Summer Mission Trip
7/1/2017-7/8/2017
---
Vacation Bible School
7/10/2017-7/14/2017
The VBS is for children 4 years old through those entering 6th grade. It will be a lot of fun with Bible story time, crafts, activities, and music.  We need help in all areas.  If you are interested in helping out with this year's VBS, please contact Sue Machida.
---
---