In Community:
July 2017 Newsletter
---
Summer Break
By Pastor Craig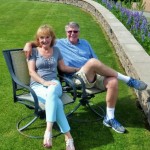 Whenever we have baptisms at FBC, I meet with the candidates and discuss with them their decision. I also review some of the basic Christian doctrines that they are ascribing to along with their faith in Jesus Christ. One of those doctrines concerns the Word of God. One thing I describe is the consistency of the Bible; how it was compiled over the course of nearly 1,500 years with contributions from a variety of individuals, young and old, rich and poor, from different cultures and societies. Yet the message is consistent from cover to cover. Important themes from the early pages are reaffirmed and expanded in the later. Even the 10 Commandments are reiterated in the New Testament, except for one – remembering the Sabbath.
As New Testament Christians, we tend to think that if something isn't repeated from the Old Testament that it's not important. But it's important to distinguish between the things the New Testament rescinds, like sacrifices and dietary restrictions, and those that it's silent on, like tithing and the Sabbath. We often associate these with legalism although both were practiced long before God gave the Law to Moses. I'll save my thoughts on tithing for a later article but this time I'd like us to think about the Sabbath.
Intentional rest was a part of God's original intent and He showed us that even when one is omnipotent, rest, reflection and enjoyment of creation is important. This summer we are trying something new at FBC; a sabbath break from Sunday School. We are intentional in our purpose. We want to give our teachers a well-deserved opportunity to recharge. We are also implementing a time for community building and fellowship at 10:30 before we begin our time of corporate worship so we can gather, relax, reflect on God's goodness and prepare to worship Him.
Sabbath is a part of the cycle of work and rest. As we take a break this summer from our normal routine, let's approach this break with anticipation of an energetic return to our study of God's Word in Sunday School this fall.
Sacred Road Summer Missions Trip 2017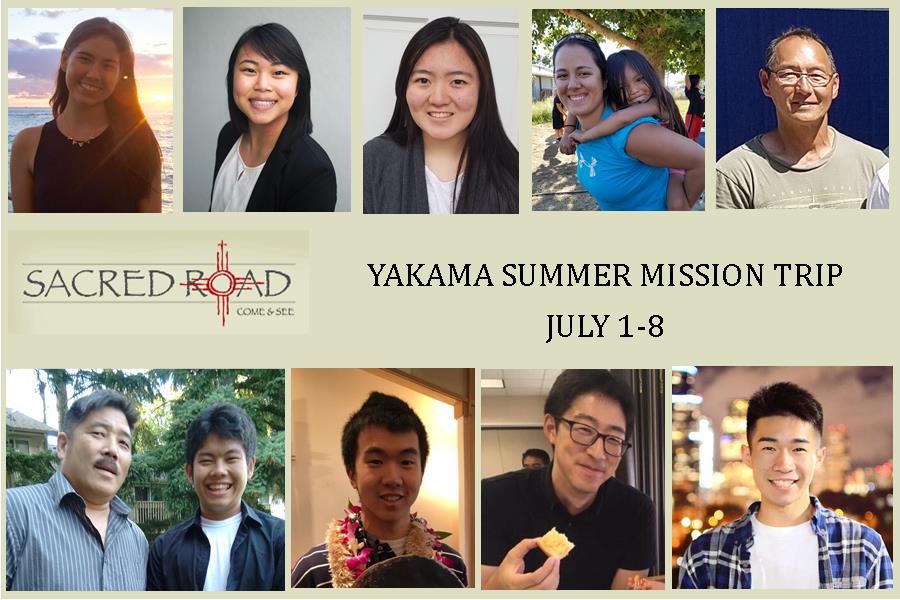 Eleven years ago FBC began partnering with Sacred Road Ministries.  At the time, Sacred Road Ministries was in the early stages of ministry, building credibility with the Yakama people, reaching out in love, repairing homes and providing for needy children. Most teens on the Reservation are effectively homeless and unemployment hovers around 70%.
As the ministry has grown, it has branched out to target these needs. Kingdom Kids to reach the children, an economic ministry to help with job development and self-reliance, and Hope Fellowship a church that provides what is needed most: Hope and a future.
Each summer, FBC has sent a team to show love to the nation by repairing homes and ministering to children at risk.  Read below what has compelled and motivated this year's team to go. If you feel led, please give to the team, with your prayers and with your financial gifts.
Here is our team:
Kara Peck
The thought of going on this Yakama Mission Trip is very exciting to me. Last summer, I went on the Tacoma Urban Program, which is a 6-week short term mission trip during which I lived and worked at the Tacoma Rescue Mission and learned more about God and His heart for those on the margins of society. We did a scripture study through the book of Amos, and learned about the history of Native Americans and the countless injustices and broken treaties that America has inflicted on these people. We also learned about the lasting effects of this history, and the injustices that continue to occur today. It broke my heart to hear all the pain and suffering that Native Americans have undergone and how in a lot of ways, I have benefitted from their pain. All I could do in those moments was lament. Because of this experience, I feel the desire to learn more and to serve in whatever capacity I am able. I am also a Public Health major, and in many of my classes, we talk about the disparities in health outcomes across different races and ethnicities. In way too many statistics, Native Americans have the worst health outcomes. It is chilling to me that there are whole people groups living so near to me that have restricted access to so many of the resources that I take for granted. I want to go on this mission trip to serve in whatever ways I can, and also to be transformed by the things I see and the stories I hear. I want to create lasting relationships in which I can show God's love so the Gospel may be spread. I want to be like Jesus in that He not only loved those on the margins, but He aligned himself with them and was incarnate. I am excited to see the ways God is working on the Yakama reservation and the ways He will work among our team!
Kayla Ng
Having heard about this mission trip for the first time two years ago, it truly intrigued me. However, my heart wasn't really in it; I just thought it would be an interesting trip and brushed off the thought of actually going, instead moving back home to California for the summer. This year though, it was different. I had a feeling God wanted me to go, but I still didn't want to believe it and step out of my comfort zone. It wasn't until God closed other doors for me and moved all other possible obstacles out of the way that I realized God was telling me to go on this trip. Through this mission trip, I am hoping to have a deeper understanding of what it means to share the gospel with others, strengthen my relationships with both God and members of the body of Christ and also grow in my faith and learn from the missionaries around me. It will be my first mission trip, and my prayer is that God will leave a lasting impact on and work in the lives of the people in Yakama. I am also praying for support, whether financially or through prayer. I have been served by many of the Christians around me, and would like to have an opportunity to serve others. I am truly grateful for this FBC family and all the love and support that I have received, and I hope to give that same kind of love to strangers I have never met before.
Kaleo Chan
This will be my fifth year serving with the Yakama mission team. I have always loved community service and volunteering, especially in settings fostering cross-cultural understanding and learning. There is so much to see, so much to learn, and so much to experience when you immerse yourself in a culture completely different from your own. I am so excited to be reunited with my brothers and sisters in Yakama and to work alongside them doing what I love to do while sharing God's love in the communities there. It is such an amazing opportunity to be able to serve again with the Yakama mission team; it is always one of the biggest highlights of my year. I'm excited to see how God is working on the Yakama reservation as well as what He has in store of us! Please pray for safety, for physical, mental, and spiritual strength, and that God's love would be apparent in every service, every word, and in every interaction.
Andrew Sasaki
I desire to participate in the Yakama mission's trip because I desire to share God's love with others and I hope that this experience will be a place for spiritual growth for me.
Scott Sasaki
I desire to participate in the Yakama trip as a way to serve those less fortunate and to be a steward of the blessings and the commission given to us by the Lord. Approx. 51% of the world's wealth is owned by 0.14% of the world's population, so we are very fortunate to be amongst the wealthiest people in the world. We are trusting through our service and giving that Christs love might be seen. I also want to be an encouragement to our son Andrew who had been looking for ways to tangibly serve in his community.
Andrew and Scott would appreciate both your prayer and financial support as they work as part of the Sacred Road Team.  They are trusting that the Lord will continue to supply what they need like He always has.  Please pray for Scott's old, arthritic knees during the project week. He used up all his mileage on the basketball court and the hiking trails.
Laurie Machida
I would like to go to Yakama to share God's love with the people there.  I am grateful for this opportunity to learn and grow in my walk with the Lord.  This will be my first time going, and I am excited to see God at work.
Brian Watanabe
God has been placing the less fortunate on my heart. One big thing that's been on my mind lately is the thought that I didn't do much to get to where I am now, with many opportunities to do many things. On the flip side, a lot of people didn't do much to get where they are with very limited opportunities. So I'm looking to get more involved with Union Gospel Mission and am looking forward to going to Sacred Road.
Ryan Tsuji
I decided to go on this mission's trip because I really felt like God wanted me to go outside of my comfort Zone to serve Him. I haven't really gone on a mission's trip before and I generally stay around the Western Washington/Seattle area for my nature year. I am going to work at UW this summer but after praying about it, I felt like God really wanted me to go on this Yakama Trip to serve Him in a new environment and use my summer for more than just having fun and making money.
Alisa Williamson
Reason for going to Yakama: This will be my 3rd year going on the Sacred Road Trip. I am looking forward to connecting and reconnecting with friends! I am also excited to see how God will use our group and reveal Himself
Roney Rustia (Team Leader)
Ravi Zacharias once said, "Life is doing what we ought to do, rather than what we want to do." These words give focus of the need to use my talents, skills, and gifts that God has given and use them for His Kingdom. My "wants" often mute those opportunities. What Sacred Roads ministry has allowed me to do "my part" in God's plan by sharing my gifts and talents in a labor of love for our Native American friends. I ask that you pray for each FBC member's safety and an opportunity to give God's love through our friendship, fun, and love.
WASABI CHOPPED IRON
by Pastor Mike Kurtz
What do you get when you cross the television shows Iron Chef and Chopped? You get a Chopped Iron competition in which the participants are given a few mystery ingredients to incorporate into a main dish and dessert and then judged accordingly. This was the second year the WASABI group competed in this fast-paced cooking competition, and the results were pretty incredible especially considering the constraints:
---
Mystery Main Dish Ingredients:  Spam, Cabbage, Red Peppers, Cauliflower
Mystery Dessert Ingredients:  Apples, Bacon, Panko (bread crumbs)
---
Keep in mind, the kids only had one hour to make both dishes, and they had to use all the mystery ingredients in their respective dishes.
The afternoon started out by creating the teams:
Team #1:  Isamu, Hijiri, Lincoln
Team #2:  Abby, Jade, Natalie
Team #3:  Hikari, Amelie, Ella, Yukimi (part-time)
Team #4:  Hailey, Sydney, little helpers: Jodi & Maili
Then came the revelation of the mystery ingredients. Some of the kids were a little worried about what to do, while others were surprisingly happy. The kids were given 15 minutes to come up with a plan. They were given internet access to find ideas, which most took advantage of. On the other hand, one team (the boys) chose to make things up as they went!
What happened next exceeded all expectations. The creativity and bravery of these kids was astounding!
Team #1
There were three boys involved in the competition, so we decided to put them all on the same team. They worked together great focusing on breakfast-style dishes: scrambled eggs & spam with a cabbage salad for their main dish and a symbolic gesture for their dessert: a pancake with bacon and maple syrup coupled with fried apples in cinnamon butter.
Team #2
This team included our incoming 6th graders with Hikari leading the team. Most impressive was their creative use of apples for the dessert. They cored out apples making a shell that would be filled with vanilla ice cream, cinnamon, and dark chocolate syrup sprinkled with a panko crumble. Their main dish was similar to the remaining teams – a stir fry with the various vegetables and spam.
Team #3
Team #3 was comprised of Abby and her two friends from Sammamish. This team was reassembled for a return performance hoping to move up from last year's close competition. Their main dish was a stir fry – but one can only imagine how things would have fared had their original plan transpired. They had hoped to fill pastry cups with the stir fry mixture, but the pastry cups didn't bake as planned, leaving them to serve the stir fry by itself. Their dessert was a hit – panko coated apples fried in butter with cinnamon. This was served with vanilla ice cream and bacon crumbles.
Team #4
The defending champions from last year's competition, Hailey and Sydney were determined to defend their crown. Their main dish was a spam stir fry presented in cabbage cups. Their dessert was a graham cracker/panko crust topped with vanilla ice cream, diced apples fried in butter, cinnamon, and sugar, topped with bacon crumbles. We couldn't help but be distracted by the two charming little helpers…
The Judges
And then there were the judges… Jim Lee and Chris Jo were back from last year; Reeghan Crawford was a late addition. Clearly, the judges favored the desserts as evidenced not just by their scores, but by their enthusiasm. Each dish was scored in three areas: taste, creativity, and presentation.
And the winner:
Team #4! They defended their crown by a single point over Team #2.  But in this competition, everyone was the winner because everyone cooperated, everyone had fun, and everyone worked hard.
Thanks to all those who participated, but a VERY special thanks to Carrie Ishimitsu and Marsha Crawford for cleaning up what had to be the messiest kitchen ever!
Missionary Update
by Scott, Terri, Kyle, Nathan, and Andrew Sasaki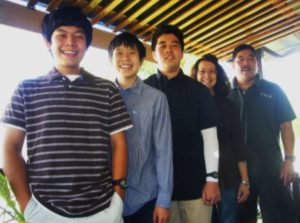 Family Update
Hello from the Sasakis! The start of summer just arrived, but it arrived a little early for us with Kyle finishing college a number of weeks ago and both Andrew and Nathan done with school this week.  We are enjoying sleeping in a few minutes later and having our boys around more.  Kyle got a summer job shortly after coming back from college (he's working for CDS doing product sampling at Costco ☺) and Nathan and Andrew have been enjoying the pool at our apartment complex on the  warmer  days.  Time  seems to be going by quickly as  we will be  saying "Farewell" to Kyle for 2 years as we depart for PNG on July 22.
Andrew and Scott will be traveling to White Swan (Yakama Nation) to be part of a short-term mission, work team from FBC with Sacred Road Ministries.  Andrew in particular was looking for ways to serve the underprivileged in a very tangible way.   The trip is July 1st to the 8th.
We are looking for someone who might be willing to sell our Honda van after we depart.  We'll need to use it to return the items we are borrowing and for airport drop-off.  If you are interested, please let us know.  Thanks!
A New Name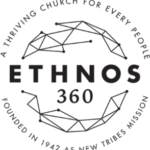 New Tribes Mission USA is now called Ethnos360.  Why have we changed our name to Ethnos360 from New Tribes Mission USA?  Because we're positioning to reach a changing world.  Our founders had a vision for reaching the world: "By unflinching determination we hazard our lives and gamble all for Christ until we have reached the last tribe regardless of where that tribe might be." (Brown Gold magazine, Issue 1, May 1943)
 The Name Ethnos360 anchors us to our foundations and points us to our vision.  Ethnos is the "nations" that Christ referred to when He commanded His followers to "make disciples of all nations" (Matthew 28:19)   360 represents the entirety of the globe – all 360 degrees. Our goal is to go wherever in the world is necessary to see a thriving church for every people, not only to focus on one particular type of people group.
Our vision is the same today as it was 75 years ago. As we move forward, we'll draw from those lessons God has taught us in our 75 years of ministry to pursue new opportunities opening to us. (The field of PNG will continue to operate as NTM-PNG.)
Ministry Update
We have been gearing-up to head back to PNG.  Both Terri and Scott are heading back to some different ministry responsibilities.  Terri has recently been asked to take on more responsibility and is going to serve as the coordinator for NCA's ESS (Educational Special Services) department.  Please pray for her as she navigates the challenges of leading her teammates who are also her friends.  Scott has officially been identified for the role of Lapilo Centre Manager so he will also be taking on some different management duties. Fortunately, he will be working with a management team who bring a lot of experience and skills to their responsibilities.
Matters for Prayer
Upcoming Transitions for our family (Back to PNG, New Roles)
For us as we prepare to leave Kyle in the U.S. as an independent young adult in college.
For Kyle's Health – remaining clear of tumors.
Managing School & Dorm staffing shortages. Some kids will not be able to attend NCA next year.
Finishing well: moving out of our apartment, returning all of the things we've borrowed and good-byes.
Summer Mission: Ishimitsu
by Mike, Carrie, Abby, Ryan, and Trevor Ishimitsu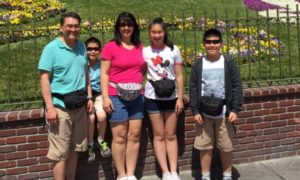 Mike and I (Carrie) along with our three kids Abby (13), Ryan (10), and Trevor (7), have the opportunity to travel to Turner, Oregon to help out with Wiconi International's Native American Christian Family Camp.  This will be our third summer helping out with the children's program there.  Native Americans from all over the country come to the camp to worship and grow in their relationship with Christ within the context of their own Native American culture.   We will be teaming up with 4 other families to lead the children's ministry which involves teaching through skits, short lectures, and a discussion time in small groups. Similar to VBS, we also will provide crafts, organized rec, and snack time.  On the second to last day there, we also will have the opportunity to participate in and help serve at a pow wow.  The four-day conference starts Thursday July 27th and ends Sunday July 30th.
We would appreciate your prayers, specifically that:
the team would be unified, safe, and healthy,
we could develop deeper relationships with the Native American children and adults, and
God would meet the specific needs of the attendees
Bill's Book Blurbs
by Bill Hamasaki
New Book for July
The Gospel According to Paul by John MacArthur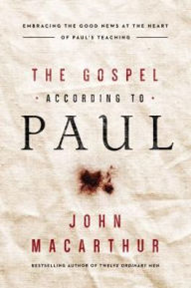 In 1988, the author wrote a book entitled, The Gospel According to Jesus, which caused quite a controversy within the evangelical world.   It discussed what the gospel is and what Jesus taught was required for salvation. The controversy was "that his case questioned the presentation of the gospel supported by 'almost every Bible College or Seminary.'"  It was not projected to be a big seller because it was doctrinal in nature but it turned out to be "an instant worldwide blockbuster."   In 1993, this author released his second volume on this subject entitled, Faith Works:  The Gospel According to the Apostles.  In this final book on the nature of the gospel, the author completes his discussion of what the Bible teaches on what one must do to be saved.
He writes, "Some influential voices in the evangelical movement today still teach that obedience to Christ is an optional and unnecessary adjunct to 'accepting Him' as Savior.  Some would deny that the gospel calls sinners to repentance or instructs them to follow Christ.  There are even a few new flavors of 'hyper-grace' and antinomianism.   (Antinomianism is the belief that Christians are not bound by any moral law, or the notion that behavior and belief are unrelated.)  Those and similar opinions still pose a serious potential threat within the broad evangelical movement.  But the biblical arguments given in The Gospel According to Jesus and The Gospel According to the Apostles still stand as decisive answers to all such errors."
"Therefore, in this volume, my main purpose is not polemical.  I'm not going to be quoting many opinions in order to refute them or otherwise loading these pages with footnotes and documentation.  My aim is simply to examine some vital biblical texts as straightforwardly as possible, taking a careful, thorough, honest look at the gospel as Paul proclaimed it-not in a dry or merely academic analysis, but in a way that will ignite our hearts with the truth of Jesus Christ crucified, buried, risen, and ascended.  No truth in all the universe is more uplifting than the good news that we have a living Savior who removes the great burden of guilt and cancels the power of sin for those who truly believe in Him."
The debate still continues to this day in academic circles regarding the true nature of the gospel. There are excellent and well respected theologians and leaders on both sides of the issues involved.  It is a vitally important issue because it involves the gospel and salvation.  It is also a very interesting and vigorous debate.  All three volumes in this series are available in our library.  Hope to see you there!
Making Generosity Easier
by Pastor Mike Kurtz
It used to be that the only way to donate to a church or other non-profit organization was through cash or checks. Then came along credit and debit cards, making donations convenient and paperless, but difficult for churches. In the last decade, still a newer form of transacting funds has entered the scene which enables people to donate through smart phones, such as Paypal and Square. Leadership at FBC realized that there were a lot of people, primarily younger ones who didn't even have a checkbook. In order to make donations to FBC, the only way was through cash. We felt it was time we catch up with a new generation of donors. Last month, FBC implemented two new ways to donate to FBC.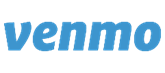 The first, Venmo, is popular with students and young career people. To use Venmo:
Open a Venmo account online either through a mobile app or desktop browser (venmo.com).
Link your bank account or credit card to your Venmo account. There is a 3% fee on credit cards. Debit card and direct bank transfers are free.
Make a donation to faith-bible-church-seattle. Donations to FBC go to the general fund, but if you would like to designate some of the donation to say, a missionary, just add a note to the notes section in the transaction form.
That's it!

A second way to donate electronically  is through Tithe.ly. Why Tithe.ly? We like Tithe.ly primarily because it will integrate directly with our accounting software. Furthermore, it enables you to make payments for events such as the Fall Conference with a credit card without having to open a tithe.ly account. And lastly, Tithe.ly was formed specifically for churches which handle funds differently than merchants or individuals. To use Tithe.ly:
Though unnecessary, we recommend you open a Tithe.ly account at www.tithe.ly/give or even better through the mobile Tithe.ly app (available for apple and android). By registering with Tithe.ly, there are more features available such as recurring donations and multiple designations in a single transaction.
If you open a Tithe.ly account, link the account to your bank account and/or credit card through the Tithe.ly settings. If you choose not to open a Tithe.ly account, no problem. Simply go to www.fbcseattle.org/give in a web browser, click the GIVE button located beneath the Tithe.ly icon, and fill out the form with the requested information (including credit card or bank card information).
If you have a tithe.ly account, just fill out the donation form on your mobile app (for Faith Bible Church) or desktop browser (at www.fbcseattle.org/give).
With Tithe.ly, there are fees for all transactions. The amount of the fee depends on the payment method (i.e. credit card, direct bank transfer). Either way, we have set up the FBC account to cover those fees. (That is something not possible with Venmo at this time.)
We know that generosity is a matter of the heart, and we trust that technology won't turn giving into a mechanical, thoughtless activity. We simply know that for some people, giving and event payments were more difficult than necessary. We assure you that this is not an attempt to increase our FBC bank account. Our church family has been incredibly generous through the years – a reflection of hearts that treasure the things of God.
If you have any problems accessing electronic giving, please don't hesitate to email Pastor Mike.
Vacation Bible School
7/10/2017-7/14/2017 | 10:00AM – 12:30PM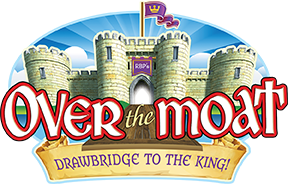 Check-in: 9:50am, Family Lunch: 12:30-1:00pm
Closing session right after morning session on Friday.
Age: 4 years old through upcoming 6th grade
Registration: http://fbcseattle.org/forms/2017-vbs-registration/
VBS Set up: July 9, After service, Lunch provided
We need help in all areas.  If you are interested in helping out with this year's VBS, please contact Sue Machida.
Summer Sunday Schedule
7/2/2017-8/27/2017
9:30am     Japanese Worship Service / No S.S. Classes
10:30am    Fellowship – Join us for coffee and doughnuts
11:00am     Worship Service / Japanese S.S.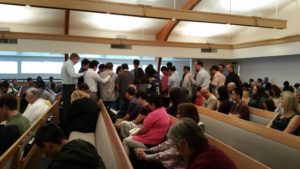 Tacoma Urban Project (June 20 – July 27):
Kalei Sur & Lucia Wang
Sacred Road (July 1-8):
Kaleo Chan, Kara Peck, Kayla Ng, Ryan Tsuji, Brian Watanabe, Laurie Machida, Roney Rustia, Alisa
Williamson, Scott Sasaki, Andrew Sasaki
JEMS Mt Hermon (July 1-8):
Kyle Walker, Lauren Oda, Jennifer Chin, Wyietah By
China Global Project (July 7 – August 4):
Westin Saito
Wiconi Family Camp (July 27-30):
Mike, Carrie, Abby, Ryan and Trevor Ishimitsu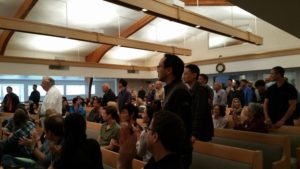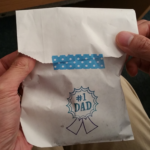 Thank you, Tiana Cheung and children, for preparing the father's day treat!
Father's Day Video by Daniel Mayeda and WASABI (middle schoolers):