In Community:
February 2018 Newsletter
---
Standing on the Podium
By Pastor Craig Swanson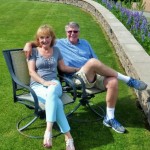 In a matter of days, the 23rd Winter Olympic Games will open in Pyeongchang, South Korea.  Athletes from around the world will gather to compete.  Many have been training for the better part of their lives for this competition. Some do so simply to be able to march in the opening and closing ceremonies and savor the joys of participation.  But all athletes dream of being in the medal ceremony; of standing on the podium and receiving a bronze, silver or gold for their performance.  It's that dream that drives them and they practice, train and prepare, month after month, year after year.
The Bible, in many places, describes the Christian life as an athletic contest, from the practice required (1 Cor. 9:25, 1 Tim. 4:7) to the perseverance needed (Heb. 12:1-3) to the rewards received by the victorious (1 Cor 9:25, 2 Tim. 4:8, James 1:12, 1 Pet. 5:4, Rev. 2:10).  While the Olympics provide three different medals, the Christian life offers 5 categories of crowns and they are available to all of us.
The first is the "eternal" or "incorruptible" crown.  It is offered to all those who exercise self-control in order to maintain a consistent testimony and honor the Lord Jesus Christ.  Since it is an "incorruptible" crown it will never fade or tarnish and it can be ours for all of eternity.
The second crown is the crown of righteousness. It is presented to everyone who longs for the appearing of the Lord; His second coming.  It will be given to all people who live for eternity more than the life here on earth; people who store up for themselves treasures in heaven and not just treasures on earth.
After that we read of the crown of life that is given to those who hold up under trials.  Even when things become difficult they don't give up their faith or take the easier way out.  That's why James says that we are blessed when we suffer; we have the opportunity to acquire a new crown.
Next, we read of the crown of glory. This crown is given to those who faithfully carry out leadership within the body of Christ.  Instead of looking at church leadership as something intimidating, God wants us to view it as an opportunity for reward and blessing.  Faithful leaders will be recognized for all eternity by the crown of glory.
The last crown mentioned is the crown of life that is offered to those who are faithful to the end.  In other words, it's not how we start but how we finish that's important, which means that every one of us are eligible for this crown if we finish well from this point forward.
This month, as we watch the Olympic athletes climb the podium and receive their medals, let's remember the podium in heaven and continue to strive for our rewards and crowns promised to us in God's Word.
ROCK Update
by Ellison Iseri
Howzit FBC Ohana? What a first half year it's been with ROCK! This year has been filled with so many memorable events already.
Here's a quick recap of what's been going on. The first outing was at the Carpinito Bro's Pumpkin Patch & Corn Maze. All that needs to be said is… the "older/wiser" folk beat the youngin's to the finish line. The next event was a delicious home-cooked Korean BBQ meal made by Chris and Vickie at the Jo's house, followed by a movie night.  During Thanksgiving, ROCK was able to team up with the CYC group and bake some pumpkin pies for the Union Gospel Mission. All of the pies came out perfectly, except for the ones that were missing some ingredients (Chris Jo's pies). Later on in December, Berean Bible Church and Pastor Kevin Lane were gracious to invite the "ROCKers" to a joint youth group gym night. It was filled with team-building exercises and games like dodge ball. Both groups were able to fellowship together and learn about each other's ministries. ROCK ended 2017 with a Christmas party dinner and Secret Santa. The "ROCKers" were told to dress in semi-formal attire as they were treated with a home-cooked fine dining meal provided by the leaders. The night ended with a Secret Santa gift exchange where each person got to guess whom his or her Secret Santa was. Someone please tell Kenji to not include their Christmas picture in his Secret Santa gift next time!
Between the outings have been fellowship events, where there have been games, food, and guest speakers. For me, this has truly been the highlight thus far. ROCK students (and leaders) had the privilege of listening to Garrett, Anna, Kara, and Weda (college students from SU & UW in CYC) share their testimonies. It was amazing to see how God has worked in their lives, especially in their transition from high school to college and also now as they prepare for their careers after college. They each shared their unique journey of how they came to Christ and how they came to FBC. It was so refreshing to hear how God has blessed them and how faithful God has been in their lives. They spoke of being surrounded by faith-driven friends and being a part of a Christian community (i.e. CYC, AAIV) during college. The "ROCKers" were able to ask questions and dig into their curiosity about life after high school. The transition from high school to college can be a daunting one, so it was definitely encouraging to hear positive stories from the CYC students.
It's been a blessing to see the growing integration between ROCK and CYC, as friendships form and fellowship develops.
It has truly been a blessing to be a part of the ROCK ministry (and to feel young again!) as I have witnessed growth and have seen them become closer as an Ohana. God has truly blessed the leaders with an awesome group of "ROCKers" and I am so excited to see what the rest of the year holds! As always, mahalo, FBC Ohana for your constant prayers and demonstration of love for our Lord and Savior.
CYC Update
by Kelyne Kitashima
God has been working within the College group throughout the school year as we continue to grow deeper relationships with each other. The CYC leadership has been developing new ways for the College group to get to know each other more intimately and intentionally. In addition to our Sunday school classes, we have "Birthday Sundays" once a month where we celebrate students' birthdays with food and break out into discussion groups in order to spend more time getting to know each other and pray for each other. Every Sunday school we also have CYC leadership members that serve as prayer partners available to students who need prayer. The CYC leadership has also been planning monthly fellowship events that bring the college group together to play games, eat food, and enjoy each other's company.
In October, we had our first fellowship of the school year called October Octathlon. This was a fun event to kick off the school year as we played rounds of different games in teams. The night was full of laughter, friendly competition, and team camaraderie. Although, one of the highlights from this night was the transition from games into a time of discussion and reflection in each team. There were a lot of fruitful conversations as students were asked to reflect on their favorite part of the night, the meaning of community, and share about their faith background (if they had one). This led the College group towards growing deeper in their relationships with one another and in Christ.
As the holiday season came around, the College group had a Thanksgiving fellowship event in November. It was a blessed time with over 50 students in attendance as we gathered over food, games, and worship. One of the highlights from the night was hearing a testimony from one of our College group members which then led to a time of open sharing. Our fellowship meeting also served as an outreach where students contributed items for the Sacred Road Ministry and packed a total of 36 gift boxes! It was amazing to see the positive turnout of assorted items and shoe boxes collected that night. A couple weeks later, we had our Christmas fellowship where we shared quality time as a community and with an exciting gift exchange.
The College group's most recent event was our January Lock-In fellowship where the students slept over at the church for an extended time to hang out and get to know one another. While we enjoyed a night full of games and snacks, we also focused on intentionally getting to know other students we would not normally get to talk to. We broke off into small groups sharing with each other about ourselves and where we are at in our spiritual journeys. This enabled students to become vulnerable with each other and pray for one another. It was a very blessed and special time. Although, the night did not end there as students stayed up playing games until as late as 4:30 am. Waking up the next morning was a challenge for some, but we all ended up enjoying a nice breakfast made by a group of students that woke up extra early to prep and cook. Finally, we ended our time together by sharing an interesting fact about the person sitting next to us. We left physically tired and sleep-deprived but spiritually rejuvenated.
As the new year/school year continues, we are very excited to see what God has in store for the College group as we continue to build deeper relationships with one another in Christ.
Senior Christmas Celebration
by Kevin Chan
Christmas morning 2017 was certainly one to remember, as we all woke up to a beautiful white blanket of snow in Seattle!  Thanks to Pastor Mike and all our seniors and guests, who sang so joyfully "Let It Snow" two weeks prior!  Our Lord heard and was pleased, thus blessed us with a quiet snowfall that began on Christmas Eve and lasted throughout the night!
Back on Saturday morning, December 9th, a busy crew was working in the FBC kitchen again.  A whole team of enthusiastic cooks and helpers were putting the finishing rub on the large racks of prime rib before they went into the ovens.  Fresh colorful vegetables were cut, tossed in olive oil and seasoned for roasting.  Other helpers continued with the cutting and presentation of the rotisserie chicken, sushi, fresh fruits, and more.  Kulani Chan was at his normal post, making and stirring the gravy at the stove top.  So, if there were lumps in the gravy, he must not have stirred consistently!
Another crew was finishing the final details in the dining room.  Eddie Sandico started brewing fresh coffee, which quite a few people need before they can get their mornings going!  Some of our young helpers started mixing the raspberry sherbet into the tasty punch, while the others worked/readied the ice breaker game with Watson Louie.  And Pastor Mike started playing soft Christmas music in the background.  Before long, our greeters were welcoming and shaking hands with all our guests and the whole room just came to life and filled up!  Praise the Lord for another great turnout!
Watson and our young helpers started our program off with an ice breaker game called "Can You Read My Lips?"  A single member of each table would lip-off (without sound) a saying and the rest of the people at his/her table would have to guess what's being lipped.  The people at each table would take turns being the 'lipper'.  As the game got going, the whole room was filled with laughter, as everyone was yelling out their often-silly guesses.
Watson pointed out that bright lipstick colors and simply exaggerating each syllable may have advantages in this game.  Some of the men joked that they had forgotten to wear their lipstick on this day!  John Iwai was quick to get 'Silent Night' correct!  Other answers included: Go Seahawks, Merry Christmas, The First Noel, Rudolph the Red-Nose Reindeer, and Drummer Boy.  The final round's answer was 'Five Golden Rings'.  Guess what?  Grace Spray's table won!  Grace said, "It's because people know that I CAN TALK, with or without sound!"  And everyone laughed!
Pastor Mike was still chuckling as he came forward to pray, asking the Lord to bless our meal and fellowship time together.  Our lunch menu included: prime rib, rotisserie chicken, mashed potatoes and gravy, sushi, roasted vegetables, sweet rolls, mandarin orange salad, fruit platter, lilikoi (passion fruit) cake, punch, coffee and tea.
As usual, right after lunch, we had our light aerobics time led by Jim Spray.  Jim laughed, as he told everyone that he had run out of new moves, so he's now re-using old ones!  He said, "Take some deep breaths: breathe in and breathe out."  Then he began with a front kick and two steps back with a punch thrown in.  Side kick and a side punch, repeater and hamstring…  People chuckled, as John Nakamura yelled, "Pastor Craig was out of sync!"  If you can follow Jim at this point, then you're doing really well!  And at the end, pull all the move routines together and add in a verbal "Hup! Hup!"  Reach up, stretch, relax and breathe out.
All our guests were excited and ready to sing some Christmas carols!  So, Pastor Mike came up with his guitar and led everyone in singing these favorites: (1) Let It Snow, (2) It's Beginning to Look, (3) Winter Wonderland, (4) Joy to the World, (5) O Come All Ye Faithful, (6) Away in a Manger, (7) Have Yourself a Blessed Little Christmas.
On this day, Jim Spray was our MVP, as he: cooked, led aerobics and is now our guest speaker!  We were very blessed to have Jim share his testimony!  Some of us already knew that Jim's a former U.S. Naval Officer, a fantastic tennis player, and a brilliant/retired aeronautical engineer.  Now, Jim is 80 years young, still actively serves on our Seniors Committee (as he's one of the original members) and faithfully teaches the Seniors Bible Study each week at FBC.
As Jim started to share, he admitted that he didn't think of God much when he was young.  However, looking back now, he realized that God was watching him all along and drawing him closer to Himself.  Jim then asked everyone in the audience to think of his/her favorite place(s).  And the place(s) could be for vacationing, shopping, one's hometown, favorite restaurant or literally anywhere.  Jim has three special places in his life: (1) Redmond, WA, (2) Pearl Harbor, HI, and (3) Treasure Island in San Francisco, CA.
First: Jim grew up in Redmond, WA (up on 'Poverty Hill').  He never thought of his family as being poor, as they had food on their table, he had a bike, a cow, and they grew their own vegetables.  They had trees to cut for firewood and he would yell "Timber" by himself.  He hated weeding in the garden though.  His parents taught him to be a moral and honest person.  They went to church occasionally, but it was usually a Catholic church.  Jim played tennis well from junior high through high school.  And he got interested in airplanes, made a wooden model airplane, which likely led to his decades' long career at Boeing later on.
Second: Jim grew up and went to UW, where he got his degree in Aeronautical Engineering.  He then went into the U.S. Navy, as he wanted to be a pilot, but didn't have the 20/20 vision required.  So instead, he went off to Naval Officer School in Rhode Island.  He originally asked to be stationed on the East Coast, hoping to go to Europe, but got sent to Pearl Harbor in the Pacific instead and was assigned to a destroyer.  A destroyer is literally a large ship that destroys things.  The ship had: big guns that shoot five miles out, torpedoes, depth charges, and missiles.  Unfortunately, the morals on board his ship were pretty bad, as the Captain encouraged all kinds of bad behavior.  And Jim didn't like that and wanted to get away from the immoralities.
Third: From Pearl Harbor, Jim was sent to Treasure Island for antisubmarine warfare training.  Treasure Island was a place where many little miracles began for Jim!  Looking back, this is where the Lord started to draw Jim to Himself in this journey.
(Miracle #1): Tennis – While in San Francisco, Jim went to Golden Gate Park to look for places to play tennis.  There, he met a man that happened to be a top coach for some of the top tennis players of the world.  And that man offered to help get Jim onto the Navy's Tennis Team.  Jim gratefully declined, as he felt it was more important to serve as he'd been trained.
(Miracle #2): The Chapel – Jim was walking back to the Bachelor Officers Quarters one evening and as he passed the chapel, he felt the need to go in.  So, he walked into the empty chapel, knelt down to pray (asking God to help him in his life).
(Miracle #3): The Girl – After the training, Jim was sent back to his ship in Pearl Harbor.  He went out shopping for a floor buffer at the Navy department store and was helped by a joyful Christian girl.  Jim worked up his courage to ask her to go to the Officers party.  And she said, "Yes, only if you'd go to church with me!"  That girl is now his wife, Grace!!!
(Miracle#4): The Church – Jim read the Bible and turned his life over to the Lord.  He realized that all he had been doing didn't guarantee him going to heaven.  The Lord had been watching over him all along and has blessed him over all the little negatives in his life!
In closing, Jim pointed out that the abundance of blessings that the Lord has poured out into his life would take hours and hours to talk about.  Therefore, Jim is so very thankful for God's grace and blessings!  In summary, God took a shy little poor kid from Redmond, WA and found him and brought him close unto Himself.  Jim hopes the Lord knocks on everyone's door and everyone would open that door and ask Jesus in!
As Pastor Craig came up for final thoughts and comments, he said that he misses Howard Inouye and his often corny jokes.  He also pointed out that Jim didn't tell any of his either on this day.  Guess what?  Pastor Craig proceeded to tell a few of his own.  Q: What do you call a bad piece of paper? A: It's tearable!  Q: What do you call a fake pasta? A: An impasta!  Q: And what do you call an overweight psychic? A: A four chin teller!
In closing, Pastor Craig pointed out that the Lord Jesus also had three important places in His life: (1) Bethlehem – His birth; (2) Jerusalem – His death; (3) Heaven – His ascension.  Let's keep these three places in mind as we celebrate Christmas each year!
Equipper Conference Testimonies
These are testimonies from those who attended Equipper Conference, December 27-31, 2017.
For more information and session videos: http://equipper.org/ec17/
---
Sakurako Hayasaka:
The main purpose of the Equipper Conference (EC) is to equip Japanese people who become Christians in the States to be able to continue their journey of faith after they go back to Japan.  The target group is Japanese people who become Christians in the States, however, Japanese Christians who already returned and are living in Japan attend EC from Japan to be able to connect with those who are going back to their areas in the future.  Many other programs, such as the seekers program, youth program, children's program, and English-speaking program are provided.  I'm glad that we were able to connect our non-Christian friends from Seattle to our Christian friends in Japan.  I heard that about half of the Christians who are saved outside of Japan walk away from their faith after they go back to Japan.  This conference reminded me again that it is a great opportunity to be able to be connected with Christians in Japan before going back to Japan.  I'm thankful for our FBC family who supported us financially and with prayers.
This was my second time attending EC.  I spent a majority of my time there serving, but I was still able to have time to talk with others in my small group and it helped me to digest and understand what I heard in the messages.   I had doubts and questions about some areas of my life, but during the intersession prayer, God told me "you are already used for God's purposes.  You will understand eventually." Just like this EC's theme "Living the Freedom in Christ," I would like to live the freedom in the Spirit instead of living life for myself.
---
Ayako Kasai:
I would like to thank God for giving me the opportunity to be a part of Equipper Conference 2017, and for giving us the chance to pray together and strengthen our relationship with Him. The theme this year at EC was "Freedom~Living the Freedom in Christ." (2nd Corinthians 3:17)
During one of the sessions, our speaker explained: living the freedom means doing what you want to do, and living the freedom means living by the Spirit. I was given the opportunity to think what my berries might be which make me not to live the freedom in Christ. One of them was: I focused too much on the things that I had to do by relying on myself, not fully relying on God. Thus there was no space for the Spirit to work freely inside of me. God has a big plan for me that I still do not know, so He provides me those things. I want to continue seeking God's help and guidance to have space for the Spirit to make the most of His work inside of me, and to motivate me to do those things with joy. Also, it was a blessing to see and know how God worked in each of us through a small group. By seeing God's works, I relished happiness and the privilege that He is always with us whichever season we are in.
I received a lot from Him through EC.  I would like to think, process, and reflect to my daily life continually what He showed me at EC and what He wants me to do after EC. Upon the registration for EC, I received a scholarship through FBC. I'm very thankful for FBC supporting us generously through donations and prayers. I would like to conclude this EC17 testimony by anticipating to bear more fruit by praying and encouraging each other and continuing to be transformed into His image through the work of the Spirit.
---
Yui Mizuno:
Thanks to everyone who prayed and supported the Equipper Conference attendes. My experience at EC was so blessed and amazing.
The theme of EC in 2017 was "Freedom ~Living the Freedom in Christ~, which was taken from 2 Corinthians 3:12. God gave me time to think about freedom and restriction for me as a Christian which I normally don't think about. On the fourth day of the session, there was a message about two types of ministries; one comes from joy through the Holy Spirit and the other comes from fear through other people. The message spoke to me directly, and made me think if my heart was fully toward God for all my ministries. I realized it was not only for God but also for myself to be assessed by other people. I was also afraid that my faith wouldn't grow unless I did ministries. I realized my restriction was selfishness and fear from my unstable faith. I was reminded that doing ministry is showing His kingdom and the incentive comes from His unfailing love. The session taught me to return to the pure purpose of ministries; showing His unconditional love and glory. God also gave me an amazing experience with my small group. Everyone else grew up in a Christian family except me, so it was a bit challenging for me to understand their struggles and lead the group as a leader. Consequently, I prayed for them and asked how He wants to use me, then the Holy Spirit led my small group through me. We had a fascinating time to share and build great friendships. We still encourage each other by sharing Bible verses and prayer requests weekly through text. I am very thankful to God, who provided an amazing time and people at EC.
---
Toshitake Tanaka:
From this Equipper's Conference, I was reminded of two things. The first one is how I am so weak and the second one is how important it is to rely on Jesus.
It was my 2nd time to join EC and my first time to join EC as a Christian. Also, I was asked to minister by sharing my testimony. So I was nervous that I had to be a good Christian, like love everyone including my parents. But it was pretty hard for me and I didn't know how to love them exactly.
As EC neared, the feeling that I had to love everyone to be a good Christian was getting stronger and I focused on solving this by myself instead of relying on Jesus. As a result, I stopped going to church and praying to God to answer how to love them. I misplaced the priorities.
Obviously, I couldn't find an answer and I got so stressed out. But I changed my mind from two things at EC.
The first one is, I am too weak to do everything without relying on Jesus. It means there is a limit to what I can do without God. Actually, I couldn't be a good Christian and I still haven't understood what love is. It was very important for me to be reminded that I need Jesus.
The second one is how important it is to rely on Jesus. I often try doing everything by myself without any help. But sometimes I couldn't complete it because I'm not a perfect. But Jesus is perfect all the time. Also, Jesus changes and helps me.  I am not changing by myself. I had forgotten this, but it is really important because I often focus on action instead of relying on Jesus. Actually, I was trying to be a good Christian by myself instead of praying to Jesus in preparing for EC.  It was a great opportunity for me to reminded of my need to rely on Jesus and revise my understanding of Christianity. Also I felt how I'm so weak and God is perfect. I'm glad that I could remind myself and God gave me this great opportunity.
---
Tyler Kekona :
Before experiencing it first hand, my expectation of EC was pretty low. From what I heard, I would be studying the bible from 8:00 am to 10:30 pm with a bunch of people I don't know. However, EC turned out to be a lot more fun than I had initially imagined. In my current life schedule, I only have time to study the bible and learn about God at church and at bible studies. Even if we attend these events, it really only gives us a couple hours a week to learn about God. There is no real opportunity to sit down and really discuss things written in the bible. EC was a great opportunity to sit down and think about God without any distractions for hours at a time with people who also have the same questions as us.
At EC, I was able to get to know God better, make lots of new awesome friends, enjoy hot springs, and get away from the Seattle weather down in California!
Baptism Testimony
by Matthew Kiyoi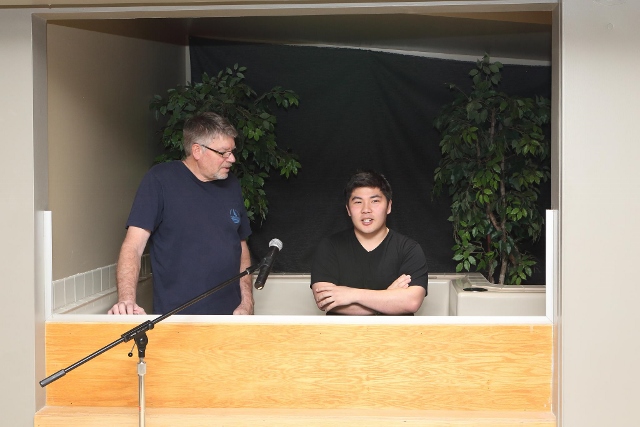 As I think about what I want to testify about, the notion of fear continues to linger in my mind. My childhood was spent as the son of an Elder and strong mother, both of whom were well equipped to keep me in line as I always liked to think that I knew everything. By the time I was 7 or 8, I was well versed in the Gospel as I knew it. Jesus came and died for my sins. He rose again and I didn't have to worry about sin anymore. The fear of punishment that I knew, of standing in a corner or going to my room, was hidden away in my feelings. Exit Childhood and enter into JEMS Mount Hermon Christian Camp week as I was entering into 7th grade. I could not wait any longer to be in my cabin amongst friends. And God met me there at camp in ways I could never imagine. For the first time I was challenged by other peers and cabin leaders to immerse myself in Christianity and the Bible. I accepted Christ there on one of the last days and never looked back. Yet I couldn't help but still have fear hiding deep within me, this time a fear of baptism. Yes, an irrational fear. Of what I feared, perhaps you could ask my younger self that. But that fear lasted within me until college and this moment. Jesus has done many things in my life during college, the biggest of which was uprooting this entrenched fear in me. This last year, He came rushing into the whole of my life, tearing apart the lies I had been telling myself. "I am a broken person", "what will people think of me, waiting so long to be baptized?", "no one cares about who I am, I will get hurt if I open myself up". I needed to let go of the parts of my life that I had kept hidden, letting the Vision Team at Asian American InterVarsity see the ugliest parts of who I am. These seven people revealed Jesus' desire for me to be vulnerable with myself and them by modeling it to me. I am privileged to have our staff member Marky desire to see me grow in my leadership and personal discipleship with Jesus. And to all of you, my FBC Ohana family, you have been my church community. My journey is not yet over; this is just the beginning. Yet God has already done so much by opening up my heart that I may share it with you all.
"He has told you, O man, what is good; and what does the Lord require of you but to do justice, to love kindness, and to walk humbly with your God?" (Micah 6:8)
Bill's Book Blurbs
by Bill Hamasaki
New Book for January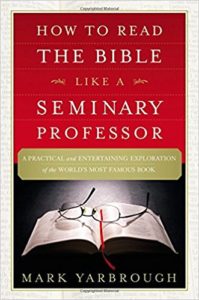 How to Read the Bible Like a Seminary Professor by Mark Yarbrough
To read and study the Bible is essential for growing deep in the Christian life.  The Bible was not given just to satisfy our curiosity but to transform our lives.  However, books on Bible study and interpretation are often technical and difficult for many believers to understand.
In this book, the author (professor of Bible exposition at Dallas Theological Seminary) has written an excellent and "entertaining" guide to unlocking the truths of Scripture.  Using a three step process, he provides the basics of Bible reading, principles of proper interpretation, and the G.O.A.L. of application.  Through the use of illustrations, often humorous, he shows what to look for as we read and study the text and how to understand and interpret the different types of literature used in the Bible.  He discusses the importance of individual words, sentences, and syntax.  He even gives a short grammar lesson!  Knowing the cultural context is also important.   As the goal of studying the Word, he challenges us to put into practice what we learn.
Two helpful appendices are included:  a glossary and pronunciation guide, and a list of recommended resources, including commentaries on each book of the Bible.  This highly recommended book would be a great resource for anyone wanting to learn how to read and study the Bible more effectively and accurately.   Chip Ingram writes, "This is the best book on understanding and interpreting the Bible I've ever seen.  Practical, easy to understand, scholarly but accessible, and filled with insights and tools for a lifetime of knowing God through His Word."
Annual Meeting
Thank you, FBC elders, for preparing nice lunch before the annual meeting!  Thank you for all of your work, love, and care for FBC family!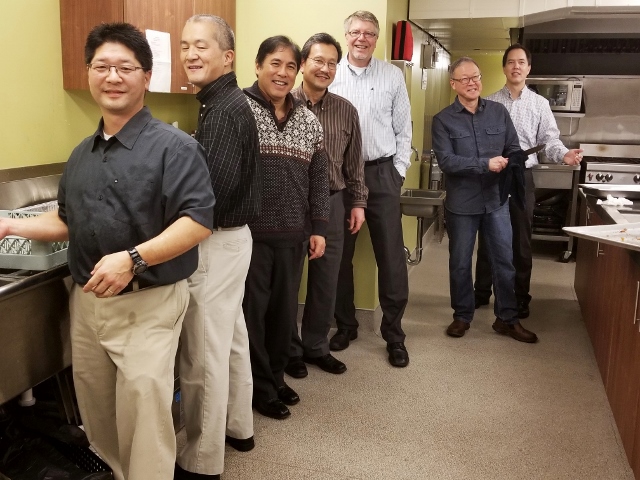 We were blessed to hear testimonies from Wyietah By, Sakurako and Naoki Hayasaka at the annual meeting.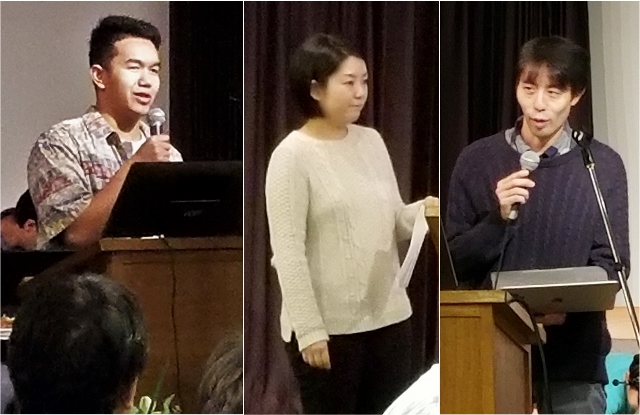 March 4: Joint Service and Fellowship Hour
March 11: Aisankai (JLM Lunch)
Mach 20: Japanese Ladies' Easter Afternoon Tea
July 28-August 4: Sacred Road Summer Mission Trip