In Community:
December 2016 Newsletter
---
Helping the Fruit Grow
By Pastor Craig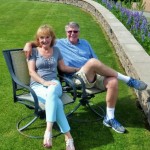 They say that you can't grow fruit without a tree, vine or bush; that fruit is just the natural result of the normal growing process. I've heard this applied to the fruit of the Spirit as well as Jesus' description in John 15 of the vine, branches and fruit. I've also heard people say that no special effort is needed on our part to be fruitful because fruit just happens. But I also know from my limited experience in gardening that there are things that we can do to encourage growth and things, that if not done, will limit the harvest. Weeding, watering, pruning and fertilizing make all the difference.
This is especially true with regards to the 5th fruit of the Spirit, kindness. If we just wait for kindness to happen in our lives, we'll probably be waiting for a long time. Having just watched political campaigns unfold and reading articles, blogs and the comment sections that follow, we see that the human default position is not kindness.
We typically think of kindness in terms of words or actions. But the things we do or the words we speak are products of the thoughts we carry in our minds. When we focus on cultivating kindness in our hearts it translates into kind words and kind deeds.
Two things that I find helpful are to first, see others as created in the image of God as James 3 tells us, and look for glimpses of God in people. Second, I try to view others through the eyes of the Lord. Knowing that if He loved other people enough to go to the cross for them, it is only natural for me to afford them the dignity and honor that is due someone so loved and valued by the Creator and Judge of the universe. As I attempt to think that way, my words and actions will hopefully be consistent with my thoughts and kindness in my life will flourish.
I know that when I neglect the yard and garden only the weeds do well, but intentionally providing an environment for good things to thrive produces the results I hope for. Heart and mind preparation is helpful, too, for the fruit of the Spirit to flourish, especially the fruit of kindness. As I meditate on Romans 2:4, "The kindness of the Lord leads us to repentance" the Holy Spirit prepares the ground for kindness to thrive.
As I look around FBC and see the way people reach out to others at Thanksgiving, support the ministries in White Swan, Beacon Hill International School and the School of Promise, give generously and sacrificially and encourage those leading ministries at church, I see a bumper crop of kindness on display. Keep up the good work and thank you all.
---
School of Promise Vision Trip
In mid-November, a group of eight of us from Faith Bible Church visited Chiang Mai, Thailand for 10 days to explore how our church can partner with the School of Promise (SOP), a Christian international school that provides education to children, especially to those who are facing poverty and are at risk of trafficking. We learned and experienced so much during our trip and look forward to sharing more at service with the FBC congregation! Here are some highlights from the team members:
Spending Time with the Kennells –Lois Swanson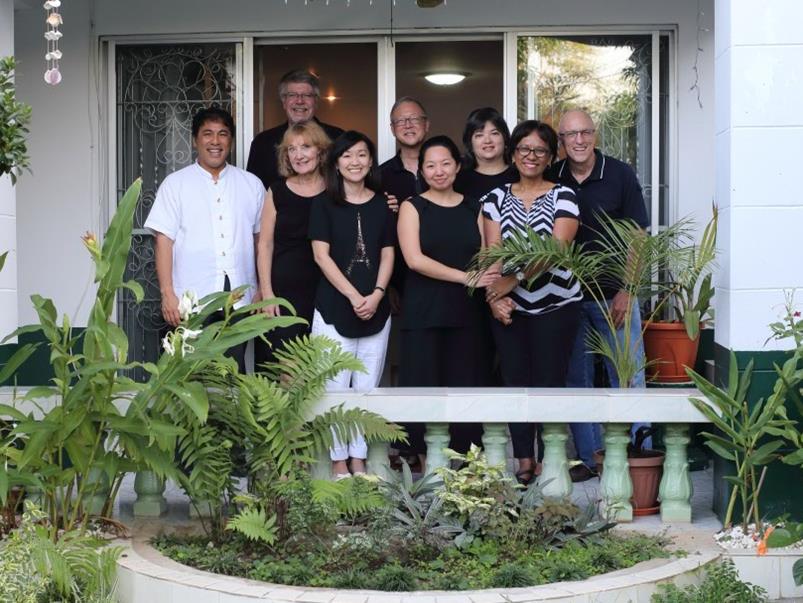 A huge "thank you" to our FBC Ohana for sending us with your love, prayers and gifts to visit our own Bob & Noby Kennell, and to see first-hand their ministry in Chiang Mai. It was impressive to see how quickly God has enabled them to pick up the Thai language as we witnessed them engaging in conversations with people in their church, at the School of Promise, in the market…everywhere they went. That was the biggest blessing of our time spent with Bob & Noby…seeing that God's love flows from their lives to whoever is around them wherever they go. They don't "have ministries" as much as "they are Jesus' hands and feet wherever they go". That included ministering to us as a team. When we arrived, we each found a bag of goodies, a keepsake, and a card of encouragement…together with huge bottles of extra water to keep us hydrated. They went the extra mile in caring for each of us on the team as well as for those they are there to reach with God's love. Besides inviting us to join them in their volunteering at the School of Promise, they packed our schedule with opportunities to see what God is doing in Thailand, and had all of us over to their home to watch the last Seahawks game, and treated us out to dinner at a place too beautiful to explain. They truly pour out their lives as a sacrifice to God and we were blessed to learn from their example.
Worshiping at the Kennells' Church—Kenny Kumasaka
Our first morning in Thailand was a Sunday, so our first activity as a group was to worship at Bob & Noby's church.  I was delighted to discover that our friend, Yim, whom we had met on previous mission trips with Zoe Children's Home, attended the church.  She translated the sermon in text form using the LINE app that we all downloaded prior to service.  We participated in the service by singing I Adore, to which Naomi performed a worship hula dance.  Although we rehearsed together for the first time that morning, I sensed the freedom of a spirit of worship, rather than of performance.  Many things were familiar, as we recognized the melodies of praise songs and hymns.  Some things were different, such as the live auction of donated fruits and vegetables held at the end of service.  (The Elder Board will be taking this practice under consideration).  It was a great start to our trip as we felt the warmth of unity, worshiping with our brothers and sisters on the other side of the world.
Volunteering in the classrooms at the School of Promise –Naomi Yonemura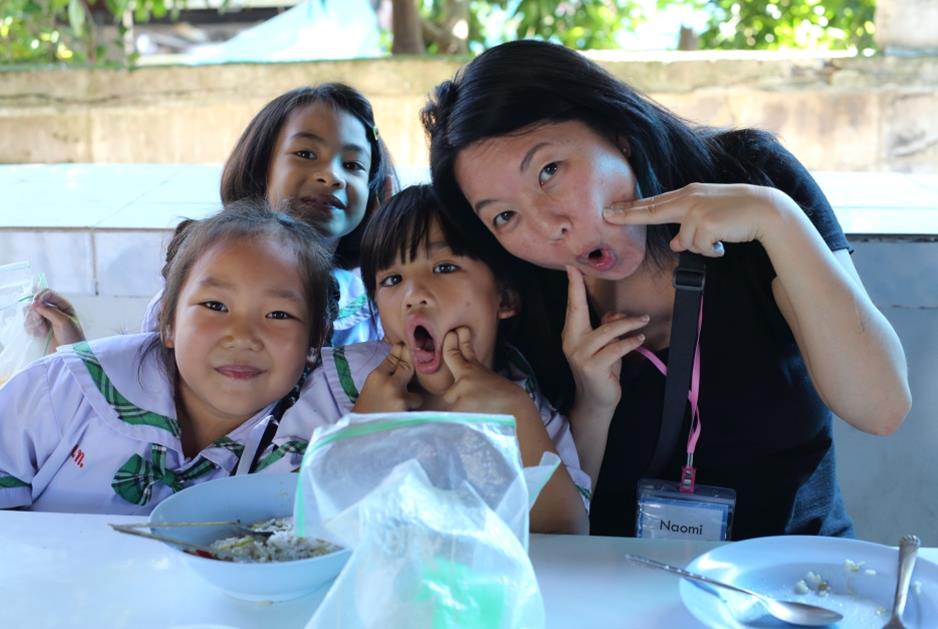 The best opportunity I had to connect with the kids individually was in the classroom. The one-on-one time I had was great, as even the rowdiest of boys was able to focus and sound out the English sentences when I was sitting next to him. I really bonded with one girl, whom I will call Summer. She was paying attention to the teacher during class and had bright eyes eager to learn. During the coloring time I offered to draw her a cat and in turn she offered to draw my portrait. This took Summer awhile, especially since I kept changing my pose and face expression every time she looked up to keep her and the kids around her laughing. Thankfully, they did laugh. But when it came time to fill in the features of my face she started looking up intently at me, so I would smile back at her and then she would return a big smile back at me.  This happened several times as she studied my face. As I absorbed the sweetness of her smiles and gentle demeanor, I actually became overwhelmed with how much God really loves this girl and had to wipe away tears. I started to wonder about her family and what kind of situation she came from. When we first arrived, the founder of the school, Joel, shared one story about seeking out student candidates who could really benefit from the school. Part of the mission of the school is to break cycles of poverty and oppression. He was introduced to a single mom with 3 children and after explaining that they could offer scholarships for the kids' education, she agreed to enroll her two younger children. When Joel asked about the oldest 12-year-old girl, he was told that she needed to go to work. Girls this age are very vulnerable to ending up in "night time work" in the red light districts, so he fought for this girl to attend the school. Even though the school fees are waived, there are costs for books and lunch meals. He was able to look at what the mom made working at the egg hatchery factory and came up with an amount that she could afford for all three of her kids to attend. I found out later that Summer was this eldest daughter and praised God for giving her the possibility of a better future. There is a long way to go as the mom can barely make the rent and the School of Promise at this time only goes up to 6th grade. But God allowed me to witness firsthand how the School of Promise is truly bringing hope and the kingdom of God. I am definitely keeping this precious daughter in my prayers and will seek ways to support her.
Visit to the Thai Tribal Crafts Store & More –Jana Kumasaka
God is always at work whether we realize it or understand the part He allows us to play.  This was brought to light during the team's visit to Thai Tribal Crafts (TTC), a ministry that I was honored to help with during the week.  Jon and Joyce Brooks (Joyce is Kenny Kumasaka's sister) are serving at this 40-year-old fair trade ministry that seeks to show God's love to hill tribe groups by providing economic development opportunities.  Some of the day projects that the team helped with involved dismantling and moving commercial shelving, repurposing deadstock merchandise and providing feedback to a fledgling weaving class that will be up and running soon. The part of the day that wasn't planned by us turned out to be the most compelling.  At the end of the day, Jon and his interpreter tried to hail a songtao (taxi truck) to transport our group back to the hotel, but there was to be a parade that night near our destination and no one wanted to take the job.  They searched further and further until they finally found a driver who agreed to drive us downtown. Our Thai friend, Nulek, sat in the front to give instructions while we all climbed in the back of the truck.  During the 20 minute drive, she shared the gospel and when asked if he wanted to accept Christ, he said yes, and did so right then. As they prayed, the driver got goosebumps and said that he knew God was real because he felt his presence. Nulek then directed him to a Thai church where she had some friends, which happens to also be the church Jon and Joyce attend. So the next Sunday, Jon would be looking for this same man again, not as a taxi driver, but as a brother in Christ. Full circle. God is amazing.
Visit to the SOP Principal Khru Nida's Home – Lyanne Kurtz
While our team had several opportunities to bond before the trip during our planning and training meetings…there's nothing quite like driving up a mountainside, in a really big van, over extremely narrow and massively bumpy dirt roads, with cliffs on one side to bond you together.  There was much (nervous) laughter as Bob, our super driver, maneuvered the gigantic van up to Khru Nida's Karen village.  Khru Nida is the youngest of 6 children, and was the first person in her family to finish elementary school.  When she was young, Khru Nida was a sponsored Compassion child. It's so amazing to think that she now has a master's degree and is the principal at the School of Promise. The first thing they wanted to do when we arrived at the village was to worship together.  What a blessing it was to share in this precious time.  The pastor led us in singing and shared some truths from God's word. As we sang together, each in our own language, "I know not why God's wondrous grace to me He hath made known," I was moved to tears.  We come from opposite sides of the earth, with completely different life experiences, speaking different languages, and yet we are able to worship our God together as brothers and sisters because of Christ.  It truly felt like we were standing on holy ground. After worshiping together, we all had lunch together at Khru Nida's home.  Her sisters prepared a feast for us.  The food was amazing and the fellowship was sweet. Less than 1% of Thailand's population are believers.  The Karen people group has the highest percentage of believers of all the people groups in Thailand.  God is moving in and through our precious Karen brothers and sisters.
Making God-Sighting Connections at the SOP – Reiko Aramaki
During our time at the SOP, God's presence was palpable and I was especially struck by the connections made during our short time at the school. On our first day at SOP for example, we met Bryan, a missions pastor visiting from a church in Kennewick (yes, Kennewick, WA!). His church not only supports an English teacher at SOP, but also supports a missionary couple in Papua-Indonesia who "just happened" to be close friends with the Swansons. We were amazed at this connection made in Chiang Mai and Pastor Craig mentioned that he felt like removing his shoes since he knew God was present and he was standing on holy ground. Also, before leaving for Chiang Mai, I looked at the SOP child sponsorship website and saw a picture of "Billie", a 1st grade girl who loved to read and wanted to be a nurse when she grew up. I immediately wanted our family to sponsor Billie since I'm a nurse who loves to read! While visiting SOP, I was able to volunteer in Billie's class and say "hello" to her at lunch. When I later told Joel that our family wanted to sponsor her, he told me that she "just happened" to be from the family he shared with our team about on our first day at SOP, whose father was a security guard at a Christian international school who recently became a believer and got baptized. Billie's brother also became a believer and is hoping to be baptized soon. Joel had shared Billie's family's story with us to show how SOP is changing the lives of their students and families. I loved that during the short time that we were at SOP, people like Naomi and I were able to make personal connections with the kids whose stories Joel shared with our team. I look forward to sponsoring Billie and will be praying that she and the rest of her family will come to know the Lord.
Visit to the SOP Children's Homes – Lois Swanson
The teachers at School of Promise not only care lovingly for the students while at school, but they also do home visits. We were blessed to go in 2s and 3s together with the teachers to visit students. The first home we went to was about 45 minutes by car from the school. The girl we visited is in 1st grade and commutes by public transportation each day, arriving back home around 5pm. When we arrived, the little girl's grandparents invited us to sit on their porch and the grandmother poured out her heart to us in tears, telling us about how the mother had left her daughter when she was only two, how her father was in jail for selling drugs, and that there was no one to take care of her except for her grandparents, who both have many physical difficulties. The grandmother told of a Christian organization that provided funds for their granddaughter to attend the School of Promise and what a blessing that was.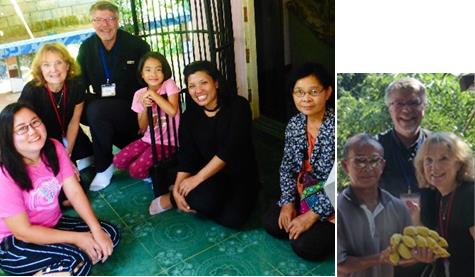 The second student we visited was a boy who was at his mother's hair salon watching TV. We sat and chatted with the boy until his mother could take a break from her customers and she too sat and shared the story of how her son's father had left her when she was pregnant. She told of the hardship of being a single mother, of her dreams for her son, of her gratitude for the School of Promise. As we talked, the bus driver who picks the boy up each morning, sat with his arm around him. You could see he was like a father to this boy. Both homes were Buddhist, but both were eager to have Craig pray about the heartaches they had shared and for the children's futures. One of the Thai teachers who speaks English translated the prayers as he prayed.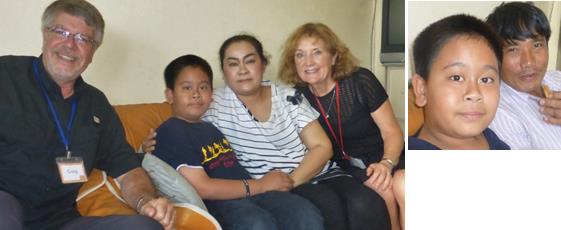 Dinner with the SOP Thai Teachers/Staff – Reiko Aramaki
Towards the end of our trip, our team had dinner with the SOP Thai staff, Joel Vander Kooi and the Kennells. The Thai staff included the teachers as well as the bus driver, groundskeeper, the cooks and the custodian. There was so much laughter and smiles as we fellowshipped over a delicious Thai dinner (lots of spicy food!). I loved that despite the language barriers, we all had such a wonderful time getting to know one another. God's love was very evident at the table! The next day, the school principal mentioned that she was so proud of her staff for speaking so much English with our team and that the staff was all smiles since they enjoyed the dinner so much.  I will always remember the sweet and tender hearts of these hard-working Thai staff at SOP.
Prayer Walk in the Red Light District & the Vander Koois' vision for SOP – Dave Bauson
During the daytime, you might not be aware that the street you're walking on isn't what you may think. Even in the night, it's only another busy street with souvenir shops and bars between your nice hotel and the parade about ten blocks away. The shops are still open, the restaurants will serve food, and the bars open into the street. They're just covers though. Alert Christians also walk this street, waging a spiritual battle against the enveloping darkness. Freedom 418 runs a community center nearby, and patrols this and other streets looking for evidence of child trafficking. Their community center provides a safe place for children living in these very areas to play and learn about the Bible. Their police and other contacts rescue children out of a life too dark to think about. Our team patrolled and prayed one evening with a Freedom 418 leader. It was a spine chilling, eye-opening and spiritually jarring experience. Please pray for the success of Freedom 418's outreach to the streets of Chiang Mai.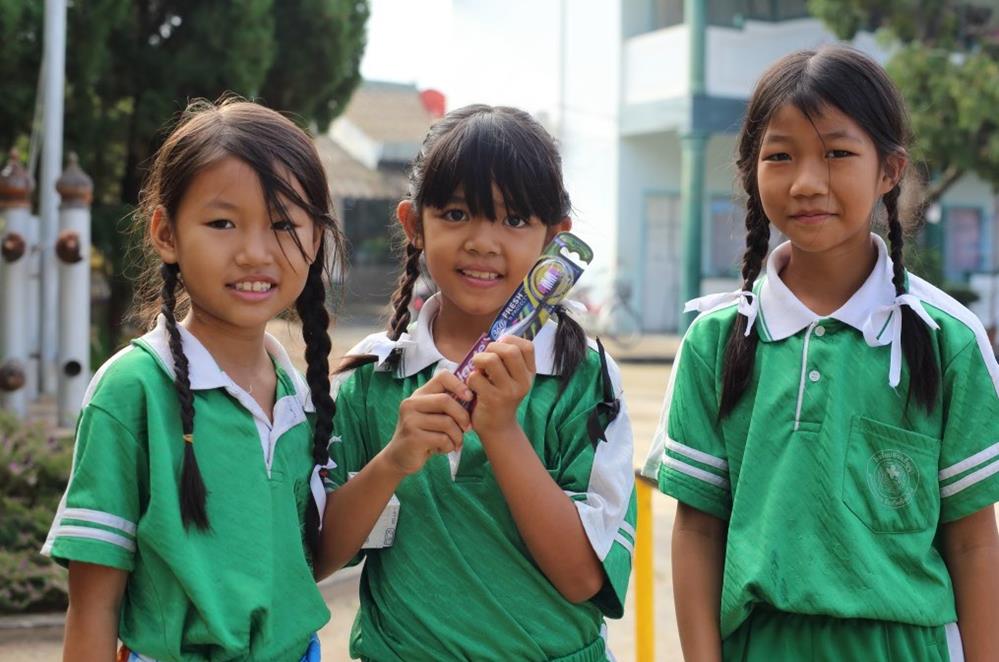 On their second visit to Thailand in 2004, Joel and Marvel Vander Kooi were similarly touched by the plight of children living in poverty. Too often the solution to a family's survival is for the older children to sacrifice themselves to the streets. Joel and Marvel were led to found Hope International Schools (HIS) with the purpose of breaking that cycle of poverty and of oppression. Since 2010 the School of Promise, the first of HIS' schools has been in operation. Our team spent the bulk of its time with the School, bringing your gifts of playground balls and toothbrushes and teaching materials, getting to know the students and their teachers. It was impossible for me to participate and not be personally changed. Sixty percent of the children at the School of Promise are children at risk. We all met one of the girls whose destiny was likely in the streets of Chiang Mai, who because of the School now has a chance to pull her family out of the poverty cycle. But her regular exposure to Christians and a superior education ends at the sixth grade, after next year. HIS' vision is to expand the school, adding a seventh grade and then forging onward to expand into a full high school. Already, the reputation of SOP is growing as its graduates win high awards for their facility with both Thai and English. Could you pray with us for God's equipping HIS' vision to use education to reach broken families with the Gospel and lift them out of both the chains of spiritual darkness and of poverty?
SOP Thanksgiving Program – Naomi Yonemura
The school week ended with a special evening Thanksgiving program by the kids and a huge potluck of delicious food. One of the girls I recognized asked me to come sit with her, and I got to meet her parents. This was a beautiful time for families to eat and be with one another.  Not all of the families could come, so this girl told us that she was going to sit by her friend so she wouldn't have to be by herself. This act of friendship warmed my heart. At the end of the night, I found Summer (the girl I had connected with earlier in the week) and she wanted me to meet her mother. We communicated with lots of smiles and Summer translated for us. It's amazing how love translates when words don't. Later that night, Joel said he saw me talking with Summer's family and told me that it was really good that I connected with them.  He shared that he had recently talked with the mom and that he was surprised to learn that she knows about God. When asked how long she knew about God, she replied that it was ever since her kids starting attending the school. The gospel of Jesus Christ is spreading as the school teaches the Bible and demonstrates the love of God!
In closing, we just want to thank the FBC congregation for the many gifts that were given to the SOP children and staff. The kids were so happy to play with all the balls at recess, they were excited to use their new toothbrushes and the staff appreciated all the construction paper for their classrooms! Thank you also for your generous financial contributions to the school. We also appreciate all of your prayers for the team while we were in Chiang Mai. We look forward to sharing more and the "next steps" in the months to come.
Love, Pastor Craig, Lois, Kenny, Jana, Dave, Lyanne, Naomi & Reiko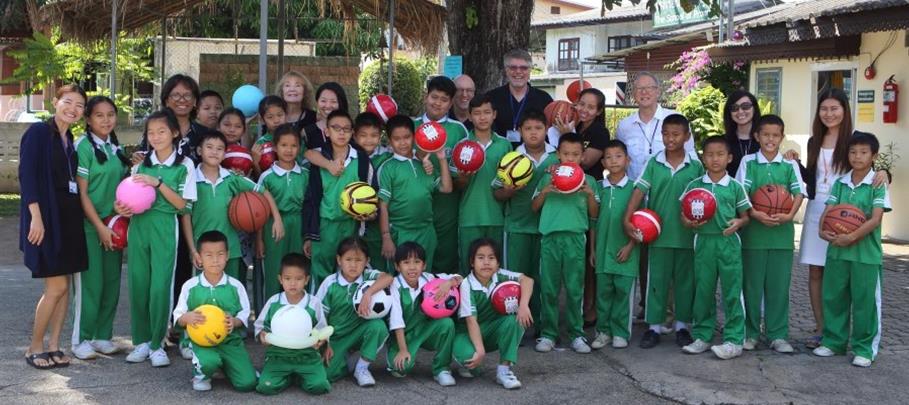 ---
Beacon Hill International School Staff Appreciation Dinner
By Nancy Fujimoto
Enter: Hungry teachers and staff to the BHIS staff lounge, weary from a day of Parent/Teacher Conferences.
Plus: A wonderful dinner of chicken enchiladas, kale salad, and an array of mouth-watering desserts.
Equals: Happy teachers and staff, refreshed and ready for the evening round of Parent/Teacher Conferences!!
This was the scene on November 21st at Beacon Hill International School! It was Parent/Teacher Conference time, just days before the Thanksgiving holiday. To accommodate many working families, BHIS scheduled evening conferences on this day. It was a very long day for the hard working teachers and staff.
Our very own, Annika Velji, cooked a fantastic meal and delivered it from her home in Bothell! Thank you to Mike Kurtz for bringing the dinner supplies to the school. Thank you for the many FBC donations of delicious desserts! BHIS PTA President, Heather Hart, decorated the staff lounge with lovely tablecloths and pumpkins.
The BHIS staff extends their thanks to Faith Bible Church for the fantastic dinner and for the constant and continued expressions of love and support to the school.
Thank you, FBC family, for blessing BHIS and spreading God's love to this very grateful school.
---
ROCK (High School) Activities
Pumpkin Carving/Movie Night/Serving at the Lord's Table
---
WASABI (Middle School) Activities
Pumpkin Carving
---
Bill's Book Blurbs
By Bill Hamasaki
FBC Library – Commentaries
In the final section of our FBC library, we have commentaries on each book of the Bible by various Bible scholars and teachers.   If you're involved in a Bible study and need further clarification and understanding of certain passages of scripture, commentaries can be of great help.   I learned early in my Christian life that it is best that they be consulted after you've completed your own personal study.
We have the highly regarded 12 volume Expositor's Bible Commentary set, covering in depth, each book of the Bible by various authors.  One of my favorites is the 2 volume Bible Knowledge Commentary set written by former and present faculty members of Dallas Theological Seminary.  Another great commentary is the 1 volume New Bible Commentary written by several British and American scholars.  We also have the classic Matthew Henry's Commentary and The Wycliffe Bible Commentary.
We also have many single Bible book commentaries covering the Old and New Testaments.  Many were donated to our library by the founding members of FBC.  They are older commentaries that have stood the test of time and are still considered classics with great insight.  In my opinion, many of these older commentaries have greater insight than many newer ones.  Some of the authors include Dr. Harry Ironside, Roy Laurin, C.H. Mackintosh, Alan Redpath, G. Campbell Morgan, F.B. Meyer, William Newell, A.W Pink, F.F. Bruce, A.C. Gaebelein, and W.H. Griffith Thomas.
Ray Stedman's The Way to Wholeness is a great study on the often neglected book of Leviticus.  A Song for Lovers by Craig Glickman is an excellent look at The Song of Solomon, another often overlooked book of the Bible.  A Shepherd Looks at Psalm 23 by Phillip Keller is a devotional look at a much beloved psalm.  LeRoy Eims' Wisdom From Above for Living Here Below is a popular look at the first nine chapters of Proverbs.
Some have said that D. Martyn Lloyd-Jones' study on the Sermon on the Mount is one of the best available.  Merrill Tenney's commentary on the book of John also comes highly recommended.  Romans: Verse by Verse by William Newell is a great choice as is John Stott's Men Made New on Romans 5-8.  We have Gordon Fee's commentary on 1 & 2 Timothy and Titus.  He is a highly regarded New Testament Bible commentator and scholar.  We also have Simon Kistemaker's book on Hebrews.
Hope to see you in the library.
---
Children's Musical- Christmas 2016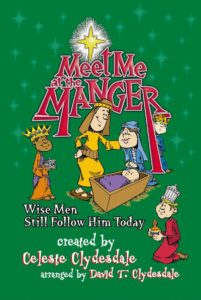 Children's Musical "Meet Me At The Manger"
Sunday, December 18th 9:30am & 11:00am
Faith Bible Church Sanctuary
---