In Community:
August 2017 Newsletter
---
A Well-Oiled Machine
By Pastor Craig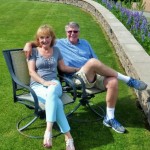 It seems amazing to me how far cars have come in their development.  My first car had a manual transmission, an AM radio and cranks on the windows.  Now the windows open with the push of a button, transmissions automatically adjust for maximum fuel efficiency and sound systems integrate cell phones, music players and GPS.  Collision avoidance systems and full-cabin airbags provide safety and protection.  Now cars can parallel park themselves and before long they will be driving us instead of us driving them.  They are becoming high-functioning marvels of engineering.
In some ways, it reminds me of VBS at FBC.  I just finished participating in my 15th VBS at Faith Bible and come away amazed at how this ministry comes together and operates.  Let's start with the decorations.  For months, behind the scenes, minds are at work considering how to transform our sanctuary and classrooms into medieval castles and throne rooms and then on one Sunday afternoon, a team of volunteers turn those dreams into a reality.  Our tech people make online registration possible and our sign-in teams are ready to process those who simply show up on day #1.  The crafts, games, snacks, stories and music are all prepared and the boys and girls go excitedly from station to station.
All the while, teams of our seniors are at work in the kitchen preparing lunches for the children and their parents/guardians to enjoy at the close of each day.  Looking around the church, I see no tension, no stress, no conflict.  I'm impressed by the love, joy and peace as well as the rest of the fruit of the Spirit on display.  That's because it's not just the people of the church at work, the Lord of the church is at work as well.  The Word being taught, children trusting Christ, people using their gifts and God using His people.  It's a sight to behold.  And then, when it's all done, a team appears after church on Sunday to take it all down, put things away and begin thinking and praying about next year.
It seems like an activity that almost drives itself.  But we know that isn't true.  It's the leaders, the helpers, the church and the Lord that make it happen and I want to thank you all for your continued investment in the lives of kids and the Kingdom of God.  Looking forward to next year.
Vacation Bible School
by Stacie Lee
Before a couple of months ago, I was unfamiliar with the whole concept of Vacation Bible School.  I heard about it briefly in the past years during announcements, and I was always impressed with the yearly decorations in the sanctuary. Growing up in a small Catholic church in Hawaii, I was not exposed to VBS during my childhood.  As I talked to FBC church friends, I found out that VBS was a huge part of their childhood and teen years as they volunteered each summer.  One of my New Year Resolutions was to get more involved in the church, and VBS was such a great opportunity.
Little did I know how much effort and teamwork went into hosting a weeklong event.  Months before the event, the core team was emailing, praying, and meeting, which helped make this week come together so smoothly. What amazing talent our church possesses: dancing, crafts, leadership, cooking, and acting. Way to go above and beyond FBC family!
I was requested to help transform the toddler room into the Story Room aka Throne Room. It took a team to complete all the decorations. I was so happy to have two FBC small groups working together to create the story room.  It was a great way to fellowship with one another and meet new people whom we don't typically get to work with.  Thank you all who helped set up the Throne Room and sanctuary!  The time and effort invested into all the details of the decorations were so worth it. The scenery and backdrop set up the week perfectly for the youth to play and learn about God!
"Over the Moat" was this year's theme of Vacation Bible School.  Our youth were able to learn the story and character of David.  By human standards, David didn't amount to anything but a shepherd boy. He was young, insignificant, and physically inept compared to his older brothers. But the Lord looked at David's heart and desired him to be king.  We learned about David's trust in the Lord and bravery to fight and kill the large in stature bully, Goliath. David was a trustworthy friend who never backed down on his promises. Thank you for all those who helped teach David's story. It takes a special gift to teach youth in a way they are able to understand.  And the kids were great listeners, well behaved (most of the time), and so smart. During discussion time, our group was so sharp in answering all of our questions. David's story became an example of how we should live our lives, respecting others and trusting in God.
The rest of the day was spent in different rotations that consisted of singing, playing, and crafting. The groups were able to practice songs that prepared them for a performance in front of their parents on the last day. So much spinning in circles, I was so dizzy! We transitioned outdoors to the recreation time, which consisted of them running in mazes, playing Jenga, and getting soaking wet from the water play.  And lastly we attended Craft time where each participant created wooden treasure boxes out of Popsicle sticks. Some of them even made beaded key chains for the youth in Yakima.
I am so grateful to be a part of this weeklong event.  I took up this opportunity to serve, but I was blessed with new relationships with our youth and other adults.  I was reminded of David's selflessness and bravery.  And despite having those songs stuck in my head all week, it was fun channeling my own childhood through singing and dancing.  You parents are doing a great job because the youth at FBC are amazing!
I was astonished once again at how great Faith Bible Church works together to serve the Lord. From the High Schoolers helping with the Recreation to the Seniors helping in the kitchen. It was quite inspiring seeing the seniors give up their time, leading prayer, helping in the kitchen before the kids arrive until after they leave, and blessing us with all of that ono food!  The Lord provided in every aspect when help was needed. There is such great Kingdom work happening right in our very doors! I'm sure the Lord is pleased to see his children working together to serve Him.
I pray that seeds were planted and rooted in each child's heart. It was a great week and I hope the youth were able to take away lessons just as much as I did.  It was such a pleasure to hear that some of the children showed interest in accepting the Lord and wanted to learn more about David's story. Thank you again for all who helped and were involved. I can't wait to see what the Lord has in store for FBC's Vacation Bible School in the future.
VBS Recap Video by Daniel Mayeda:
Sacred Road Summer Mission Trip 2017
by Roney Rustia
The members of the summer trip want to thank you for the financial support, cereal donations, faithful prayers for our safety that deepened our faith in our Lord.   We are grateful for this experience and give thanks to our Jesus our Lord for His continued faithfulness in changing our hearts for service.
This year like so many in the past, Sacred Road summer mission trip was amazing as I saw our team's warm-heartedly reaching out to the native American youth and cheerfully giving their lives for others. 2 Peter 1:5-9 that talks about "making every effort to add to your faith with qualities (reference the verses for those qualities) that lead to brotherly kindness and love.   For if we possess these qualities in increasing measure, they will keep us from being ineffective and unproductive." I wish all of you could have seen our FBC team display this brotherly kindness and love during the tough jobs in the unbelievable display of poverty.   I felt like a proud parent to see our youth not being phased by this contrast in life, but by His Spirit grow through these trials.
Our team's work site assignments were separated into five different projects, unlike previous years. Here is a short description of the work and team composition.
The Hubbard's house roofing team comprised of Scott Sasaki (team lead), Andrew Sasaki, and Brian Watanabe from FBC, along with other church members, Wes, Becky, Yolanda, Tiffany, and John Zhu.
The Signal Peak Rd house paint team with Kayla Ng, Kara Peck, and Laurie Machida from FBC, along with other church members, Christina, Shaelyn, Zina, Cassidy, Corina, Lillian Zhu, and Tina.
The Kid's Day Camp team with Alisa Williamson and Kaleo Chan from FBC with other church members, Evangeline, Renee, Rachel, Sophie, Jarron, and Rickey.
The Fire Wood team with Ryan Tsuji from FBC with other church members Jenni, Tliia, and Derrick.
The Hope Church team that upgraded the church and made bunk beds and table for a single mom with three kids with Roney Rustia (team lead) and later Scott Sasaki from FBC with other church members Tom, John, Mikaela, Jenny, Donna, Kathy, and Anita.
Each Faith Bible volunteer has a story to tell about God's working in their life through the giving of love to others. They hold deep personal impressions of stories of a Yakama Nation children or relationships that were formed.   We have seen the children's faces drop their despair and smile as we play with them.  Our words of encouragement for an emotionally starving child builds upon good memories that may prepare the soil of their hearts for the Good News. I challenge you to approach any of the past or present participants of Sacred Roads mission and ask them what impressed them about their trip. Their stories are amazing life change experiences that are impactful to their life forever.
We are blessed to be awakened in our faith as we take the steps to trusting God in different endeavors outside of our lives.   Sacred Roads mission trips certainly gets us out of our comfort zone and challenges us to trust Him to help us in our journey.   Each year it is a blessing to serve. Each year I am blessed to be working with a team of mature and productive Faith Bible Church members. Please come and experience the Spirit working in White Swan as God's kingdom is increasing with Yakama Nation people.
This link to Sacred Roads blog has our video of the team members. I encourage those who have not experienced missions to watch it.   Thanks.
Yakama Team Video by Sacread Road Ministries
The QUESTION of the day: What do you do?
by Bob and Noby Kennell
Usually that question jump starts a selection of responses beginning with a pause, followed by a look of contemplation, then a stare, a smile, and another pause… a long pause —uhmm.
Well, for you – our faithful, loving, and supportive church family, who have prayed and given and prayed and given, here are some answers.
Our "typical" week always includes a full day at our Thai church on Sundays, library days at the School of Promise Monday through Thursday, and prayer meeting Wednesdays.  Other activities that keep us busy include helping our secretaries once a week improve their English and communication skills, helping our elderly neighbors, discipling two young couples, Sunday afternoon English conversation with kids in our neighborhood, helping with projects in the community, meeting with our mission team members living in Chiang Mai, and continuing to build relationships with Buddhist friends throughout Chiang Mai.  We keep busy…really.
Saisamphan Fellowship Church has become like family to us.  The majority of the members are from tribal groups, mainly Lawa, Hmong, and Karen.  Bob has joined the pastoral advisory board and shares the pulpit with three other men who are Lawa, Kamuk, and Hmong. While most of them prefer to speak their own tribal language, everyone converses in Central Thai (for our sake) which is the dialect that we have learned. The college career is the largest group and are very actively involved in the function of the church.  Once a month we host their weekly time of worship, bible study, & snacks (of course). We will soon begin to mentor young couples and disciple men desirous of becoming leaders in the church. The men's and women's groups are very active which gives us great times of fellowship. There is never a shortage of activities to support.  Every 6th week our cooking team cooks Sunday lunch. There is a lack of good family structure, so pray with us as we seek to come up with a good plan to teach godly principles on marriage, family, and child rearing.  We are thankful for the opportunity to be the speakers for their family conference the beginning of October.
The School of Promise is a weekly highlight.  Reading English to the 5th and 6th graders enables us to maintain our Thai visa, but the most rewarding is the interaction with the students and teachers in and out of the classroom.  Oversight of the library is our main job at the School of Promise.  We are praying for funds to fix the roof and give the library a much-needed face lift.  Upon our return, our main task will be to input all the English books into a new computer cataloging system. The Thai teachers, all from the Karen tribal group, have become precious friends so it's easy to love up on them and assist them in school activities whenever necessary.  The sacrifices they make to be separated from their husbands during the week and return to their villages on the weekend reflect their love for God and their heart to minister to the students, most of whom come from very sad situations.
Church planting consulting is one of the main reasons that we were asked to come to Thailand, so we are systematically visiting each of our tribal teams at least once a year.  We are thankful for the experiences that God has given us as church planters so that we can offer suggestions, give direction and speak with knowledge.  It's great to work together with our teams, seeking God's guidance and wisdom to see the churches function to the glory of God.  All our tribal teams are accessible by car but thankfully going by plane to some areas is affordable and time saving.
Training lay pastors in Vietnam is very energizing for Bob.  The excitement and zeal of these young people so eager to learn and be taught principles from God's Word is infectious.  In August we will spend 2 weeks teaching in a Bible School in Hanoi.
Bisorio Bible Dedication is scheduled for November 2017.  Because of their love for the Word of God and time spent reading it, they have now run out of Bisorio New Testaments.  The Old Testament portions and the complete New Testament are being put together and hitting the printing press in China at this time.  We are trusting that the project can be completed and delivered to Papua New Guinea by November.  Please pray!  THANK YOU FAITH BIBLE for financing this project.
AND THANK YOU FAITH BIBLE for your faithful partnership, assisting us to be able to serve the Lord in a variety of ways, all for the glory of God.
Mt. Hermon Testimony
by Kyle Walker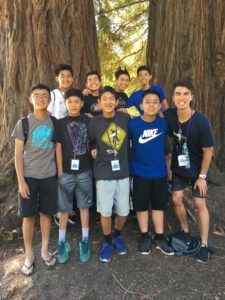 This summer I had the opportunity to spend a week in the mountains near Santa Cruz, California and serve as a cabin leader at the JEMS Mt. Hermon camp. I was blessed with incoming 9th grade boys and each of them are shown in the picture. Mt. Hermon is a time for putting away all distractions of society and focusing our full and undivided attention towards God. I have been attending camp for many years, and each time, I am awestruck by the power and majesty of the Lord and how He works through the short week. The theme of the week was Broken Hope, of which the messages and worship sets were centered around. The speaker crafted in illustration of the gospel where he introduced God as a white wooden square, pure and infinitely royal. Then gave each of the conferees a white tile, since we are made in His image. Then a plate of colored paint, which represented sin, which taints the perfect creation God made. We are broken by sin and we physically shatter our tiles of our sinful life. Finally, by the death and resurrection of Jesus on the cross, we illustrated surrendering our lives to Jesus, allowing him to piece back together our lives on the cross, where we took our broken tiles and glued them to a cross, creating a colorful mosaic on the cross. Throughout the week, my conferees were able to share pain and brokenness they have been experiencing in their life and the cabin as a whole was able to pray and encourage them over their life. All in all, the week was amazing and if the opportunity comes again, I would love to go back. Thank you FBC Ohana for all your prayers and support!
Mt. Hermon Testimony
by Jennifer Chin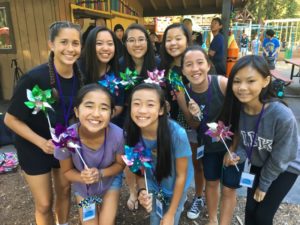 First off, I just want to say that I am so thankful for the FBC family who encouraged me and prayed for me as I went to California. I was sick and nervous before I left, but knowing that I was not alone was so comforting and made me put all my trust in God. My first year cabin leading at Mount Hermon is definitely something I will always remember with a smile! The first few days in Santa Cruz were spent in team building, getting to know the other cabin leaders. It was really fun and everything felt very new and exciting. We spent our time playing games, making door signs, and talking about safety and logistics for the week ahead! The kids began to arrive at the Inter High Redwood camp (for 8th-9th graders) on Sunday afternoon. The theme for the week was "Broken Hope." Throughout the week our 2 speakers talked about having hope even though we are all sinners. One of the activities we did was we each painted a square tile with different colors to represent our sins. A few days later we shattered our tiles with a hammer and glued them to the cross, which was a good visual representation of us giving our sins up to God.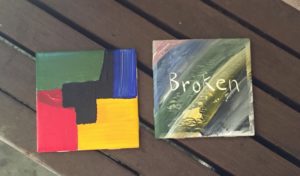 There were some really powerful moments throughout the week from the worship, to testimonies, to praying over one another. For me, I was able to talk about things that I've never told anyone before, because I felt so safe and comfortable with the people that God provided around me at camp. A huge burden was lifted off my shoulders in talking about these things and it feels so freeing to have the chains broken from my sins. I am so grateful that God brought me to Mount Hermon not only to be a leader but also to be encouraged and strengthened in my faith by the other staff members and the conferees. The week was full of victories that only God can provide. I loved getting to know the girls in my cabin during our one on ones and cabin time. It's been a long time since I got to talk to energetic, sassy, middle school girls, but they were all so sweet at the same time :). Throughout the week we got to play fun games, take a bunch of pictures, and be encouraged by each other in our walk with God through prayer and scripture. Aside from the gross bathrooms and tiny cabins, my week at Mt. Hermon 2017 was a little slice of heaven. I feel so blessed that God led me to serve this year with an amazing group of people who I will always be able to call family. Thank YOU again for all your love and support!
Mt. Hermon Testimony
by Lauren Oda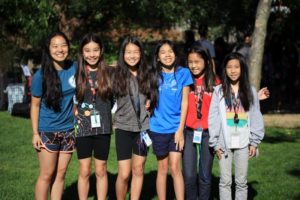 This summer, I was granted the opportunity to serve at JEMS' Mt. Hermon Jr. High Camp as a cabin leader for the second time. Our theme verse was Colossians 1:27, which shares that "To them God chose to make known how great among the Gentiles are the riches of the glory of this mystery, which is Christ in you, the hope of glory" (ESV). The girls in my cabin are heading into 6th grade, so we often had to take the time to define certain words and phrases. "Gentile" was one of these terms. The literal meaning is a person who is not Jewish, but we were able to also discuss the personal meaning- that anyone and everyone is able to have a relationship with God. Their questions reminded me of how important it is to study the Bible, and helped me recognize the value of the knowledge I have acquired- through church, friends, fellowship, and so on.
A change in location made scheduling difficult, but despite all the confusion I was able to bond with not only my cabin, but other conferees and the staff as well. My cabin was filled with a lot of homesickness,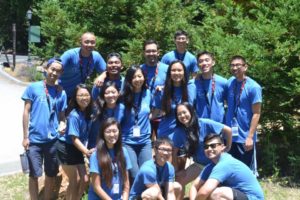 but we have been blessed with the ability to continue communicating for the rest of the summer and hopefully years to come. My fellow staff members, especially the other girl cabin leaders, have also kept in touch and hung out beyond camp. I am yet again amazed at the relationships that can develop over such a short period of time. Thank you so much for the prayer and support. I will see you all when I return to Seattle in September.
Bill's Book Blurbs
by Bill Hamasaki
MVP Book
The Knowledge of the Holy by A.W. Tozer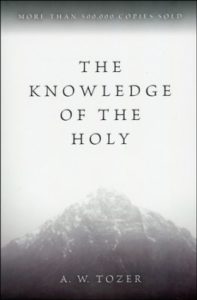 A.W. (Aiden Wilson) Tozer is an author often quoted by other writers for his depth of thought and insight.  He died in 1963 but his books are still popular and influential to this day.  He has written many books but the two that are called classics are The Pursuit of God and The Knowledge of the Holy.  Many of his unpublished sermons are now being released in book form.  There is even a book entitled Inspired by Tozer, in which 59 Christian leaders, artists, and writers share how the writings of Tozer challenged them to a deeper Christian faith.
This was the last book he wrote and one that people often think of when Tozer is mentioned.  In it he discusses "why we must think rightly about God" and examines 18 attributes of God.  It is also a book that after reading a chapter, you have to put it down and think through what you have just read.  The opening line in the first chapter sets that stage for the rest of the book – "What comes into our minds when we think about God is the most important thing about us."  He continues a couple of paragraphs later, "Were we able to extract from any man a complete answer to the question, 'What comes into your mind when you think about God?' we might predict with certainty the spiritual future of that man.  Were we able to know exactly what our most influential religious leaders think of God today, we might be able with some precision to foretell where the Church will stand tomorrow.  Without doubt, the mightiest thought the mind can entertain is the thought of God…"
Many Christian leaders have lamented the low view of God among Christians today.  This book is one that will elevate your perspective of God as well as your worship of God.   It may even change your life as it has for many who have contemplated and digested its contents.  Hope to see you in the library!
Baptism Testimony
by Yuka Tomioka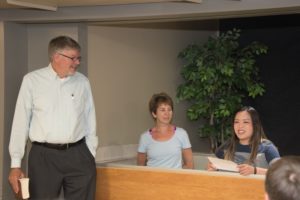 I attended a mission school for 10 years for my middle and high school years.  Every morning, we had a worship service and I thought if there was no worship service, I could have slept in.  I tried to sleep during the sermon without being caught. We had to take Bible classes and I was interested in and had fun learning, but it was just a story to me and I never thought the Bible had any relevance to me. I belonged to a cheerleading club at school in high school and college and I had many hours of practice every day, so I learned how to sleep without being caught in class by sleeping while maintaining good posture.  My purpose for going to school was just for cheerleading.  When I became a senior in college, other students began looking for a job after graduation, but there was no occupation that I was interested in and I desired to continue cheerleading after graduation. Although I was not good in English, I decided to go to the University of Kentucky (UK) to learn cheerleading because UK was ranked No.1 for cheerleading in the States.  Around the fall of my senior year, I was accepted into UK to learn cheerleading, so I did not look for a job and enjoyed the rest of my college life with my cheerleading teammates. However, a few days after graduation, I received notice from UK that they had hit the maximum number of students and they could no longer accept me.  I was planning on studying cheerleading at UK, so I did not do any job hunting and I did not even know what kind of occupation I was interested in.  I felt at a loss and did not know what to do.  My mom saw me like that and said "if you don't have things that you want to do anyway, just go to the States for now. It sounds like I was expelled but this is the reason why I came to the States.
Although I was studying at a language school, my English-language skills were very limited, and it was hard for me every day. Most of the people I became friends with were here for a short term, and I did not have any friends that I could open my heart to. Because of that, I decided to start going to a gym for a change. The gym had a Zumba class and the instructor looked so cool, so I attended the Zumba class every week.  One day, an American lady who was taking the Zumba class together with me commented on my outfit in the locker room and said "Your pants look so cute. Where did you buy them?" I answered "In Japan" and she said "Wow, are you Japanese? My husband is Japanese. We are having a party at my house this weekend, so please come!"  and gave me her phone number.  That person is Mrs. Lynne Otsu.  But, to be honest, I was a little reluctant to go, so I found an excuse to say no.   I did not see Lynne for about 3 months after that.  I had been attending Zumba class and one day, Lynne came to me while I was in the locker room, and gave me a pair of tie-die pants. She went to Japan and saw the pants and thought of me and bought them as a souvenir for me.  After I went home, I still had her phone number on my wall, so I sent her a thank-you message.  She replied to my message and invited me to church for the following Sunday because there was lunch with Japanese curry after church on that day.  I was lured by curry to church.  It was my first time to go to church.
Meeting Mr. and Mrs. Otsu was huge for me. I was encouraged by God's word that they shared with me since I always had worries, frustration, and loneliness about my future. I began to think I might be able to enjoy my life a little bit more if I obeyed the teaching of the Bible.  I noticed that I started going to church every week.  When I started going to church, everything about the Bible was difficult and the message went straight over my head, but just when I had more interest in learning, the women's basic class started during Sunday school.  I began to learn about God's love for us little by little.  Also through the Bible study at Kuge's and one-on-one studies with Yasuko and also with Hiromi, I learned a lot of Bible verses that I needed in my exact situation and I was very encouraged. I made a profession of my faith but there were some things in the Bible that I found difficult to agree with, so I told people that I would not be baptized.  But I found myself naturally thinking "what would God do in this situation and that situation" and "Thank you God for this and that"  and realized that I've been thinking about God all the time, so I started thinking about getting baptized.  However, if I got baptized without understanding everything in the Bible, I felt like I was lying, so I could not make a decision to get baptized for more than half of a year.  I finally made a decision on Good Friday.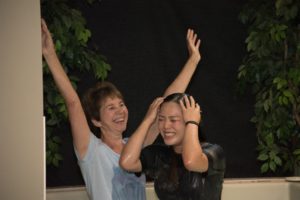 Of course, I knew the meaning of Jesus's cross, but I realized and felt deep in my heart that Christ's suffering on the Cross was for me.  I had been obeying the particular Words that were advantageous for me before, but I would like to become closer to God and be able to share the  greatness of God to those who don't know Him yet, just like people did for me.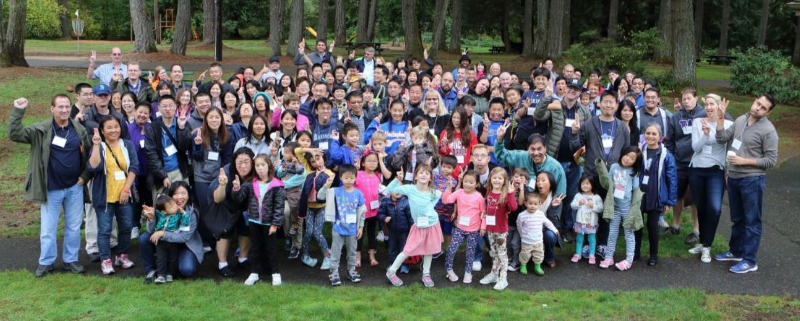 Summer Sunday Schedule
7/2/2017-8/27/2017
9:30am     Japanese Worship Service / No S.S. Classes
10:30am    Fellowship – Join us for coffee and doughnuts
11:00am     Worship Service / Japanese S.S.